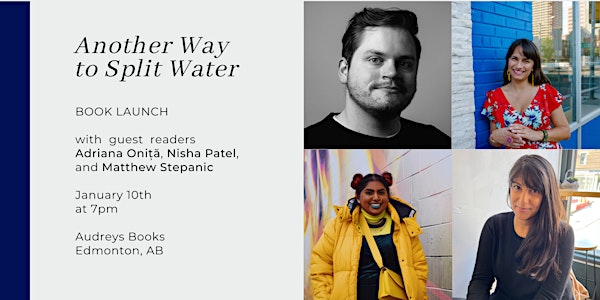 Another Way to Split Water by Alycia Pirmohamed – Edmonton Launch
Join us for the Edmonton launch of Another Way to Split Water by Alycia Pirmohamed.
When and where
Location
Audreys Books 10702 Jasper Avenue Edmonton, T5J 3J5 Canada
About this event
On Tuesday January 10th at 7pm, Alycia Pirmohamed will launch Another Way to Split Water at Audreys Books, with the brilliant poets Adriana Oniță, Nisha Patel, and Matthew Stepanic.
In Another Way to Split Water (Birlinn Ltd), a woman's body expands and contracts across the page, fog uncoils at the fringes of a forest, and water in all its forms cascades into metaphors of longing and separation just as often as it signals inheritance, revival, and recuperation. These poems are a lyrical exploration of how ancestral memory reforms and transforms throughout generations, through stories told and retold, imagined and reimagined. It is a meditation on womanhood, belonging, faith, intimacy, and the natural world.
The Readers
Adriana Oniță is a Romanian-Canadian poet, artist, educator, and researcher. She writes poezii în limba română, English, español, français, and italiano. Her recent poems appear in CBC Books, The Globe and Mail, The Humber Literary Review, in her chapbook Conjugated Light (Glass Buffalo, 2019), and in the Romanian Women Voices in North America series. Adriana recently completed her PhD in language education at the University of Alberta. She is the founding editor of The Polyglot, a multilingual magazine of poetry and art, and the editorial director of the Griffin Poetry Prize.
Nisha Patel is the Poet Laureate Emeritus of the City of Edmonton. An award-winning disabled queer spoken word poet & multimedia artist, she is a Canadian Poetry Slam Champion and holds a Master of Arts in Cultural Studies from Queen's University. Her debut poetry collection, Coconut(NeWest Press) was a finalist of the ABPA Regional Book of the Year. She is currently finishing her Master of Fine Arts in Creative Writing at the University of British Columbia. Nisha's latest works include multimodal inquiries into disabled life. She showcased her first exhibit of disability art in 2022, titled A FATE WORSE THAN DEATH, and published her disability poetics chapbook, Not A Disorder (Gap Riot Press).
Matthew Stepanic is a queer writer who lives and works on Treaty 6 territory in Edmonton. He is the co-founder of Glass Bookshop. He is a co-author of the collaborative novel, Project Compass (Monto Books, 2017), and the author of Relying on that Body (Glass Buffalo Publishing, 2018), a poetry chapbook about RuPaul's Drag Race. His work has appeared or is forthcoming in Poetry Is Dead, CV2, Eighteen Bridges, and others.
Alycia Pirmohamed is the author of Another Way to Split Water, and the chapbooks Hinge and Faces that Fled the Wind, and the collaborative essay Second Memory. Alycia has held post-doctoral positions at the University of Edinburgh and at the University of Liverpool, and she received an MFA from the University of Oregon and a PhD from the University of Edinburgh. She currently teaches on the MSt. Creative Writing at the University of Cambridge. Alycia is the recipient of the 2019 CBC Poetry Prize, a Pushcart Prize, and the 2020 Edwin Morgan Poetry Award.