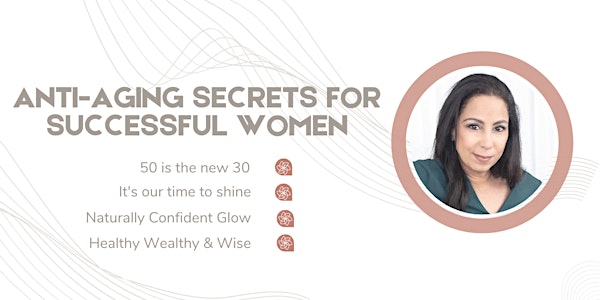 Anti-Aging Secrets for the Successful Woman
Enhanced Aging - Feel Great At Any Age
About this event
This event is open to anyone that wants to learn secrets to Enhanced Aging
Who says we have to get "old" just because time is not standing still??? We are here to share some secrets that will help you thrive! Think about "ENHANCING" your life.
Incredible guest speakers from around the globe will be sharing their knowledge and expertise in the well-being space to help you feel amazing at any age.
There are some key contributors to the visible effects of aging AND there are key (secret) things we can do to help diminish them.
Tina and her special guests will be leading a masterful session with Q&A and tips to optimize the natural healthy aging process.
50 is the new 30!!! 🌸 It is our time to thrive!
The zoom will open a few minutes early so we can start and finish on time.
11am-11.45am Los Angeles12pm-12:45am Salt Lake City1pm-1.45pm Chicago2pm-2.45pm New York7pm-7.45pm London8pm-8.45pm Paris
REGISTER TO RECEIVE THE LINK
#skincare #beauty #businessexpansion #beautysalon #spaproducts #musthaveproducts #latestinbeauty #highestquality #antiaging #successfulwomen #fabulousfifty