Anti-black racism work is HIV work! At this Zoom workshop guest speaker Robin Browne will expand on this idea and more.
About this event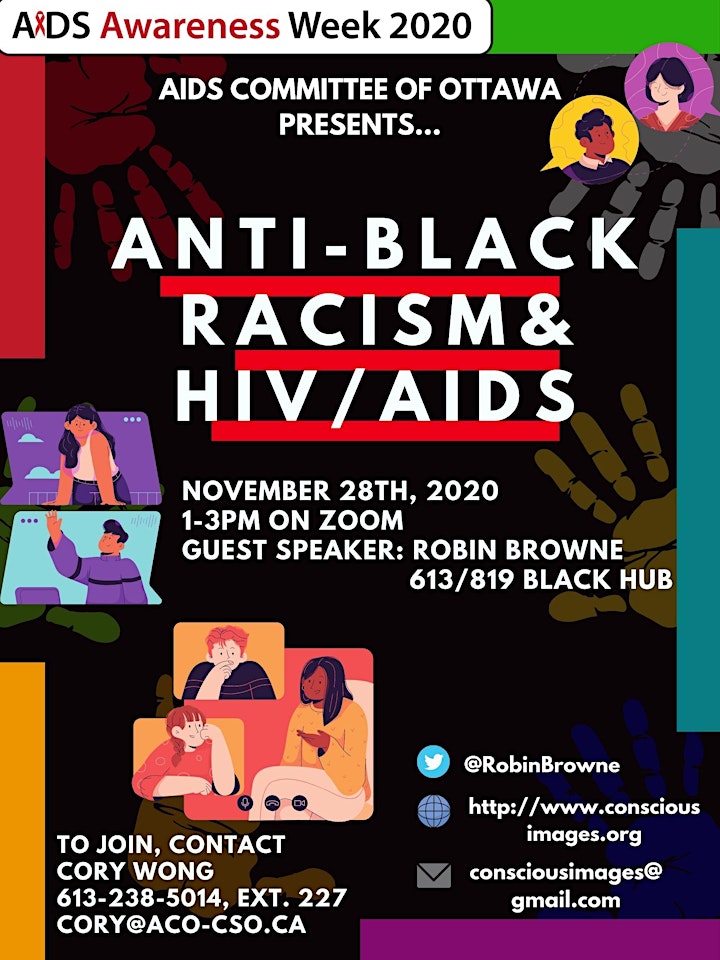 The AIDS Committee of Ottawa presents this workshop as one of our AIDS Awareness Week events!
Join us for an educational and social justice minded workshop on the intersection of Blackness, anti-black racism and HIV/AIDS.
contact cory@aco-cso.ca for more information or to attend
Join Zoom Meeting
https://us02web.zoom.us/j/86307217177?pwd=QjI3L2pYVUpxR0pSejgwUVNpN2xhdz09
Meeting ID: 863 0721 7177
Passcode: 760648
----------------------------------------------------------------------------------
World AIDS Day takes place on December 1st each year. It's an opportunity for people worldwide to unite in the fight against HIV, to show support for people living with HIV, and to commemorate those who have died from an AIDS-related illness. Founded in 1988, World AIDS Day was the first ever global health day. It is estimated that 37.9 million people are living with HIV around the world, and 63,100 people here in Canada, and 6 Canadians are infected with HIV everyday.
The AIDS Committee of Ottawa is organizing and hosting educational and awareness-raising events throughout the entire AIDS Awareness Week from Nov. 24th to Dec. 1st.
COVID-19 is showing once again how health is interlinked with other critical issues, such as reducing inequality, human rights, gender equality, social protection and economic growth. With this in mind, this year the theme of World AIDS Day is "Global solidarity, shared responsibility".
Please see our line-up of events and join us in raising awareness in our community and across our city.
----
Land Acknowledgment for Events:
We pay respect to the Algonquin people, who are the traditional guardians of this land. We acknowledge their longstanding relationship with this territory, which remains unceded.
We pay respect to all Indigenous people in this region, from all nations across Canada, who call Ottawa home. We acknowledge the traditional knowledge keepers, both young and old. We honour their courageous leaders: past, present, and future.
We acknowledge the history of violence caused by the colonizers to Indigenous people and their land.
Organizer of Anti-Black Racism & HIV/AIDS