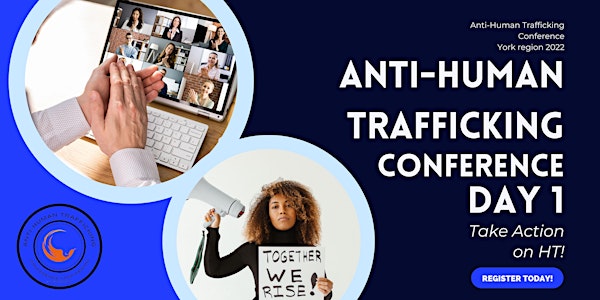 Anti-Human Trafficking Conference York Region - Day 1
Join us for Day 1 of the 4-part Anti-Human Trafficking Conference in York Region!
About this event
Human trafficking for the purpose of sexual exploitation is a prevalent issue in York Region, its surrounding areas, and across Canada as a whole. According to the Government of Canada, human trafficking is defined as "involving the recruitment, transportation, harbouring and/ or exercising of control, direction or influence over the movements of a person in order to exploit that person, typically through sexual exploitation or forced labour. It is often described as a modern form of slavery." (Government of Canada, 2021). Survivors of human trafficking and those who support them know that human trafficking is much more complex.
At the Anti-Human Trafficking York Region Conference, attendees will learn about what human trafficking is, signs and indicators, risk factors, laws, what we can collectively do to eradicate human trafficking in our communities and more.
Day 1 Speakers & Topics
Introduction to Human Trafficking - Victim Services of York Region
The Connection Between Homelessness & Human Trafficking - 360Kids HOPE Program
Youth in Care & Human Trafficking - York Region Children's Aid Society