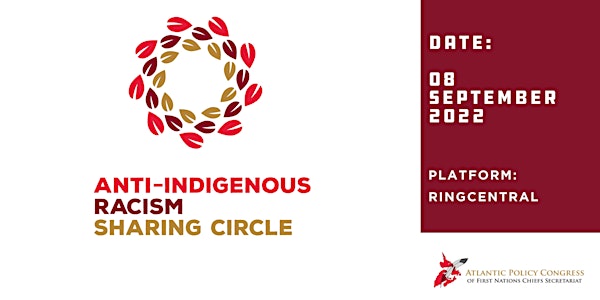 Anti-Indigenous Racism Sharing Circle
The Anti-Indigenous Racism Sharing Circle will occur virtually on 08 September 2022 via RingCentral.
About this event
The Atlantic Policy Congress of First Nations Chiefs Secretariat (APC) will host this Sharing Circle engagement to address anti-Indigenous racism in healthcare.
This Sharing Circle which will cover the Atlantic Region and encompass all First Nations communities in Nova Scotia, New Brunswick, Prince Edward Island, and Newfoundland and Labrador.
The central question that this engagement will focus on is:
What program or service-based solutions may be implemented which could help address anti-Indigenous racism?
APC is inviting:
• Health Directors;
• Health Technicians;
• Treatment Centre Leads; and
• Health Partnership Committees and Sub-Committees.