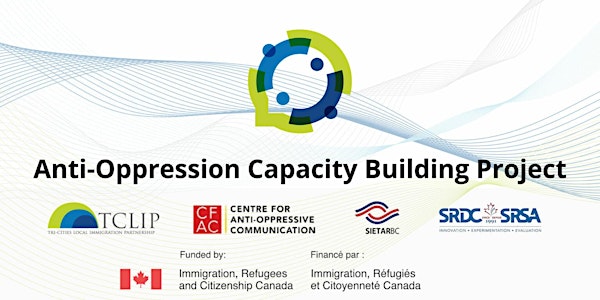 Anti-Oppression Capacity Building Project
Anti-Oppression Capacity Building Project
By Tri-Cities Local Immigration Partnership
Date and time
Thu, Jan 26, 2023 10:00 AM - Wed, Mar 8, 2023 11:30 AM PST
About this event
The Tri-Cities Local Immigration Partnership is offering the Anti-Oppression Capacity Building Training (as a part of the Anti-Oppression Capacity Building Project) to strengthen service providers' awareness, knowledge, and skills to apply anti-oppressive approaches to service delivery. Using a cohort-based system, participants will commit to attending 3 workshops, and 2 group coaching sessions and have the option to participate in individual coaching sessions with the Centre for Anti-Oppressive Communication. The commitment within the cohort would be for approximately 3 months.
Participants will be required to complete feedback surveys to measure the impact of the training on their practice. Workshops and coaching sessions will take place virtually and are open to service providers across all organizational levels in Metro Vancouver and BC*.
This project is funded by the Ministry of Immigration, Refugees, and Citizenship Canada (IRCC) and is a partnership between TCLIP, SRDC, and SIETAR BC. The training is approved by BCCDA. Participants will receive a certificate.
The last cohort will start on September 7, 2023.
Here are the dates for the fourth(last) cohort:
Orientation session | August 24, 10-11:00am PST
Training 1 | September 7, 10-11:30 am PST
Training 2 | October 5, 10-11:30 am PST
Training 3 | October 19 , 10-11:30 am PST
Consolidation 1 | September 21, 10-11:00 am PST
Consolidation 2 | November 2, 10-11:00 am PST
Participants can select a 30-minute individual coaching session on September 28th or October 26th.
Please note that this event is currently limited to people working in the settlement sector in Metro Vancouver.
* S.U.C.C.E.S.S. may use Eventbrite to collect your personal information for the purpose of managing registrations for the event as well as future communications. If you choose to use Eventbrite to register for this event, please note that Eventbrite will collect your IP address, event responses, name, and contact information and that this information will be stored and may be accessed outside of Canada. By clicking on the register button, you are consenting to your personal information being disclosed and/or potentially accessed outside of Canada with immediate effect.
If you do not want to register for the event using Eventbrite, please contact the event organizer directly at tricitieslip@success.bc.ca.
You can view the S.U.C.C.E.S.S. privacy statement here: https://successbc.ca/privacy/protection-of-personal-information/
About the organizer
The Tri-Cities Local Immigration Partnership (TCLIP) brings community leaders and organizations together to review the needs of its newest residents and identify means to facilitate immigrant settlement and integration. The ultimate goal of the TCLIP is to develop welcoming and inclusive communities where both long term residents and newcomers feel a sense of belonging and attachment.