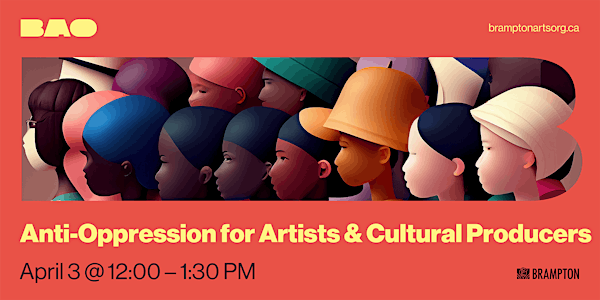 Anti-Oppression for Artists & Cultural Producers
Explore the language, theories and practices of anti-oppression for artists and cultural producers.
By Brampton Arts Organization (BAO)
Date and time
Mon, Apr 3, 2023 9:00 AM - 10:30 AM PDT
About this event
1 hour 30 minutes

Mobile eTicket
This workshop for artists and cultural producers explores the language, theories and practices of anti-oppression within a critical understanding of our culture as a product of colonial, racial, gendered and intersecting violence. Institutional and community based strategies for building equity and unlearning oppression are central to the content and objectives of this workshop.
Creative, technical and collaborative models for actualizing the work of liberation will be explored. Group activities, case studies and discussion are critical tools to apply the learnings of this workshop. During this workshop artists will examine the power dynamics that shape access, inclusion and opportunities in Canada's arts and cultural landscape.
The anti-oppression framework will be used to critique institutional dynamics as well as personal artistic practices. Participants will have access to a plethora of resources to continue their learning journey beyond the scope of this session.
Learning Objectives
Learn key attitudes for practising anti-oppression.
Contextualize narrative as a tool of injustice and explore opportunities for interrupting stock stories.
Reflect on social justice challenges and opportunities within the context of the arts and cultural sector.
Explore the concepts of cultural appropriation vs. cultural exchange, gain an understanding of the cultural order and the relationship between marginalized communities and mainstream arts and cultural institutions.
Reflect on creating a more equitable and accessible space in the context of their work and the community.
Gain an understanding of the language surrounding anti-oppression to facilitate independent learning.
Reflect on these power dynamics in the context of the sector.
Explore concepts, qualities, and practices of radical solidarity.
Accessibility:Those who require additional assistance or support to participate are welcome to send us a request. Please request this assistance at least three days in advance of the event. To do so, or for any additional information please contact bao@brampton.ca
Image credit: Rania El Mugammar photograghed by Karimah Gheddai
Rania El Mugammar is a Sudanese Artist, Liberation Educator, Abolitionist, Anti-oppression Consultant , multidisciplinary performer, speaker and published writer. Her work explores reproductive justice, transformative justice & abolition, art as liberation and digital justice.
As a writer, Rania's work explores themes of identity, womanhood, Blackness, flight, exile, migration, belonging, gender, sexuality and beyond. Rania's primary mediums are poetry, spoken word and oral storytelling. She is a published poet, storyteller and playwright. Rania is deeply interested in poetic form and the auditory texture of words as well as the visual/aesthetic impact of language and form.
Rania is an experienced anti-oppression, abolition and liberation educator and consultant who is unflinchingly committed to decolonization and freedom as the ultimate goals of her work. She has worked extensively with contemporary arts institutions, STEM based enterprises, media organizations, educational institutions and community/grassroots spaces.
About the organizer
The Brampton Arts Organization (BAO), previously the Arts, Culture & Creative Industry Development Agency (ACCIDA), is a unique organization incubating within the City of Brampton. BAO champions Brampton's diverse creative community and advocates for the city's creatives. BAO aims to build a thriving, confident, and valued creative scene and cultural ecology in the heart of Brampton. In this, BAO is a key partner in fulfilling the City's ambitious vision for arts, culture and creative industries as articulated in the City's strategic vision and Culture Master Plan.