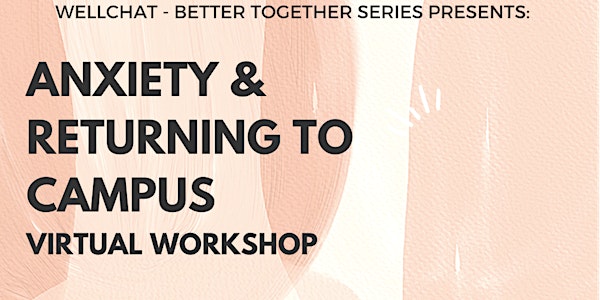 Anxiety and Returning to Campus
Feeling a little anxious about returning to campus this Fall? Feeling a lot anxious about returning to campus? Then this session is for you!
About this event
This event is being hosted as a part of our Better Together Series of events aimed at helping students make connections and it is open to all Durham College and Ontario Tech students.
Many students and staff are unsure what this Fall semester will look like, and that can affect how we feel about being back in-person. This virtual workshop will present and discuss some easy and effective ways of dealing with any return-to-campus jitters you might have.
Facilitators from Durham College and Ontario Tech will guide you through and ensure you have customized strategies specific to you and your needs by the end of the workshop! Join fellow DC and Ontario Tech students as we talk about and create ways to improve our wellness and connect with others!
Students who attend the session will have their choice of one of three wellness themed t-shirts!
Registration Closes: August 20 at Noon
Register using your student email address. Students will receive the event link an hour before the start of the event.