Anxiety, Climate and Covid-19
About this event
This is our first in a series of Webinars to help us all fight climate change
Anxiety, Climate and Covid-19
Many people have experienced anxiety around the lack of real success in the fight against climate change. Covid-19 is adding to this stress. In fact the world wide reaction to the pandemic has only underscored the need for similar, widespread, international action on climate change at the same scale. That realization can cause even more anxiety.
These stressors can be as broad as being debilitating to a mere distraction. But they all can prevent us from getting the work done.
How can we all learn strategies related to better mental health that can help keep us focus on the job at hand?
Join us for a webinar with a long time environmental activist and author of "Taking a break from Saving the World" Stephen Legault and Rachel Mahrer, Mental Health Councellor focusing on:
Anxiety, Climate Change and Covid-19
eMERGE Webinar
7:00 PM - 8:30 PM
Tuesday, April 14, 2020
This is a free event but registration is required. To simplify the process we're asking you to register via Eventbrite so that we can do a better job of keeping track of registered candidates.
There are two ways to register: Free or donation. As a not-for-profit - we are always trying to find ways to offset our costs. If you have the wherewithal and the inclination please consider choosing the donation option. (note that we are a not-for-profit, but not a registered charity. As a result we are unable to provide tax receipts).
____________________________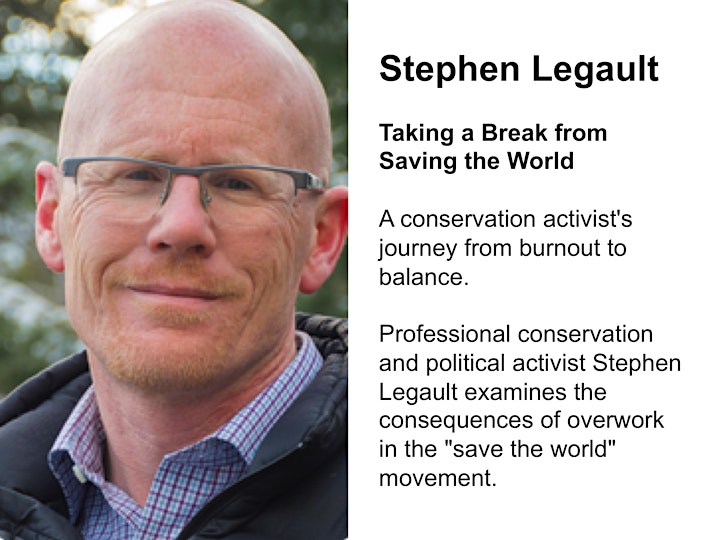 A veteran of burnout himself, Legault looks at the culture of self-sacrifice that permeates the work done by volunteers and paid staff in the environmental conservation movement, and dissects how to manage our own time, energy, and commitment to our causes. Following a river-running metaphor, and proposing a variety of techniques to help with various states of anxiety resulting from burnout, including clarity of purpose, recognition of limits, fitness and diet, mediation and yoga, as well as organizational structural changes such as leave-of-absence policies, Legault encourages readers to find time to "eddy out" - to rest a moment in quieter waters and scout downriver - to ensure our lifetime of engagement is fulfilling, effective, and self-sustaining.
Just as with teachers, nurses, doctors, lawyers, paramedics, steelworkers, students, and airline pilots, burnout is a growing concern in many social-change circles. Taking a Break from Saving the World takes a look at the impacts of eco-anxiety, over-work, and the associated stress surrounding the present and future state of the environment and offers practical and insightful suggestions on how to deal with it.
Active in the social and environmental values movement since 1988, Stephen is an experienced facilitator, political analyst, organizer, and government relations and public engagement specialist. He was the founder of Wildcanada.net, Canada's first online advocacy portal, and has served as Program Director for Yellowstone to Yukon Conservation Initiative and as the Senior Sustainability Development Office for Royal Roads University. Learn more about Stephen here.
Stephen's also a gifted storyteller, public speaker, teacher, and photographer. He's the author of fifteen books and countless newspapers, magazines, and online articles. (Note that the Bookshelf has Stephen's book on order)
_____________________________________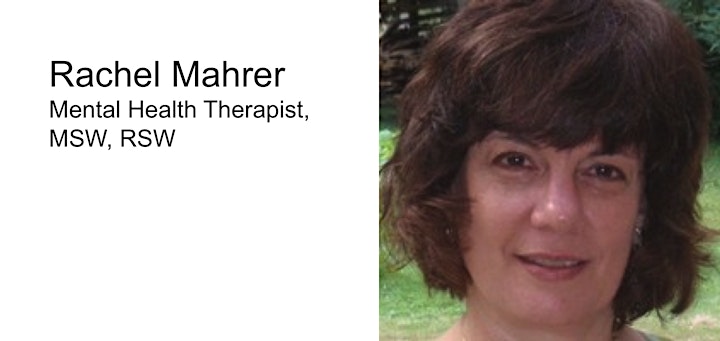 Rachel works in private practice with teenagers, adults, and couples. She brings experience and interest in anxiety and mood disorders, trauma, relationship and family issues, sexual identity, and general development/life span issues.
She is a registered social worker (MSW, RSW) with the Ontario College of Social Workers and Social Service Workers (OCSWSSW) and a member of the Ontario Association of Social Workers (0ASW).
In addition to private counselling Rachel worked as a counsellor at the University of Guelph, and currently runs a group on campus to assist students dealing with social anxiety. She is Assistant Clinical Professor (Adjunct) in the Department of Psychiatry and Behavioural Neurosciences at McMaster University. Her work with McMaster involves training psychiatry residents in CBT (cognitive behavioral therapy - depression and anxiety) and group work clinical modules. She has focused training in Relational Life Training (RLT) and Internal Family Systems (IFS).
Organizer of Anxiety, Climate and Covid19
About eMERGE
eMERGE fights climate change to build a healthier society. It does this by helping people reduce energy and water use.
Promoting smart behavior, policy and improved efficiency helps Guelph build a road map to achieve 100% renewable energy decades before 2050. This has the added benefit of a healthier community and a more resilient local economy.