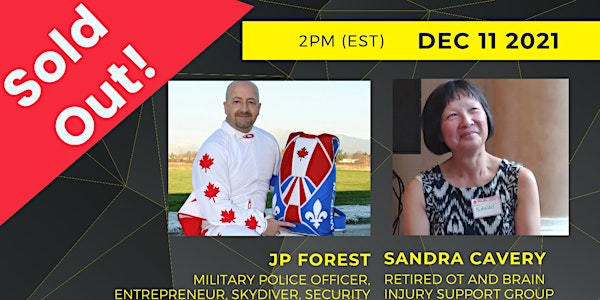 Anything is Possible: A Conversation about Traumatic Brain Injury #3
A monthly zoom call to discuss and speak about traumatic brain injury.
About this event
Our next Zoom meeting will feature JP Forest, a former military police officer, entrepreneur, skydiver, and security professional, as well as our invited professional Sandra Caverly, a retired OT, and brain injury support group organizer and facilitator. Both individuals have generously volunteered their time to come share with all of us their experience, their knowledge, as well as will be able to offer some hope, and inspiration, during these trying, uncertain times of Covid 19.
This project came to life because of the help of The GenWell Project, https://genwellproject.org/, which exists to address the issues of social isolation and loneliness through the power of human connection. I, as a brain injury survivor myself, know firsthand what it is like to have many losses, since my accident in 2006 and this is a small way of me giving back to others for all the support that I have received so far in my journey on my ongoing recovery.
- Mike Coss
Organizer of Anything is Possible: A Conversation about Traumatic Brain Injury #3