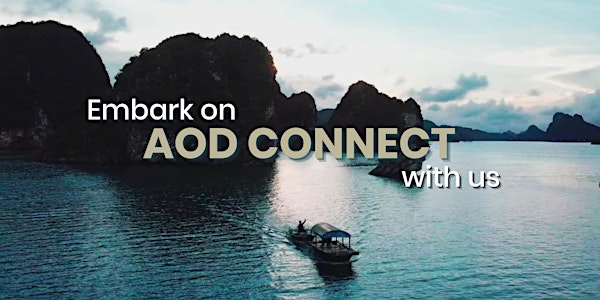 AOD Connect Season Pass
A Netflix-inspired innovative format for professional development that emerged this year, in lieu of the 2021 IMDC conference.
Refund Policy
Contact the organizer to request a refund.
Eventbrite's fee is nonrefundable.
About this event
AOD Connect is a Netflix-inspired innovative format for professional development that emerged this year, in lieu of the 2021 IMDC conference. The first "season" of AOD Connect contains six series', each with a distinct format, audience, and value proposition including videos and live events. The Archipelago of Design (AOD) is facilitating the logistics of AOD Connect, in partnership with key AOD Guild Council members, and the help of its community of practice, to deliver on the ambitious goals of each of the six series' until the end of the inaugural season on January 31, 2022.
Gain access by acquiring an AOD Connect season pass here!
1) INITIATE
"Initiate" is a three-part series that seeks to generate interest in design and innovation applied to defence and security challenges, by offering a range of activities, keynotes, videos, and discussions for both newcomers to the field and potential researchers.
Initiate Part One was completed in October 2021, with live keynotes and a panel discussion facilitated in Bogota and broadcast around the world. You can access all recordings by acquiring a AOD Connect season pass here. Recordings are shared with ticket holders through a private YouTube Channel.
Speakers and topics are as follows:
Dr. Ofra Gracier: Current challenges for Israeli defence forces from a military design perspective and Colombian Military thought from a Isreali perspective (A critical and disruptive perspective)
Colonel (R) PhD James Greer: The challenge of implementing design doctrine into the US Army: Potential Insights for the National Army of Colombian
LCol Grant Martin: The tension between irregular and regular warfare from a design perspective
Dr. Michele Mastroeni: The tension between organic design and established design methods
Colonel Pedro Rojas Guevara: Moderator
Dr. Marcos Peckel: Triángulo geopolítico Israel,Colombia y EE.UU
Dr. Edgar Palaco Mizrah: Relaciones entre Israel y Colombia en el contexto geopolítico, geoeconómico y geoestratégico
Dr. Ruben Usechetus: Relaciones civiles y militares, acelerante la diplomacia colombiana
Dr. Henry Cancelado Franco: La importancia de la diplomacia militar en la proyección del poder nacional, los casos Israel, Estados Unidos y Colombia
Initiate Part Two will draw upon current work being completed on the Handbook of Military Sciences, and will feature a series of short 3-7 minute videos from the chapter authors of the handbook.
Featured chapter authors and topics include:
Chapter 1: Dr. Ben Zweibelson - Introduction to the International Military Design Community.
Chapter 2: Dr. Ofra Graicer - Originals in Military Design: The Israeli concept of SOD.
Chapter 4: Dr. Philippe Beaulieu-Brossard & Dr. Paul Mitchell - Discovery, Intuition and Judgement: The Evolution of Design at Canadian Forces College
Chapter 7: Dr. Philippe Beaulieu-Brossard, Dr. Ben Zweibelson & Mr. Oliver Jones- Deeper into Design Theory and Meta-Methodological Strategic Applications.
Be sure to access all Initiate Part Two videos, as they are released throughout December and January by acquiring an AOD Connect season pass.
Initiate Part Three is a facilitated panel discussion with educators, covering a range of topics from the Military Handbook chapters, for an audience of current or prospective graduate students who want to explore design for defence and security purposes as a research domain.
2) HORIZONS
The Horizons series will showcase experts from different fields to provide new perspectives on design & innovation for defence & security purposes.
The Horizons series includes talks and interviews from the following subject matter experts and will be published throughout December and January:
Thomas Howalt: Game Designer behind the Hitman Series, on Prototyping (December).
Robert Chia & Robin Holt: Authors of Strategy Without Design, on Strategic Humility (December).
Join us in expanding your horizons, wherever you might be in your design journey, by acquiring an AOD Connect season pass.
3) INSPIRE
The Inspire series includes exclusive interviews with Senior leaders, General officers, Flag officers and Directors of security organizations that share their vision of design and on how they are using design with their teams to address complex challenges including changing their organisation.
The Inspire series kicks off on November 22, and will continue with new interviews published throughout December & January. Inspire series speakers include:
MGen Simon Bernard, Director General Military Personnel (Strategic), Canadian Armed Forces on Design as an Operational Requirement for the Changing Character of War (November 22).
BGen Johan Pekkari, Chief of Policy and Plans Department, Swedish Armed Forces (November).
LGen (ret.) Paul Van Riper, US Marine Corps (November).
RAdm (ret.) Mark Montgomery, Senior Director of the Center on Cyber and Technology Innovation (December).
MGen Craig Aitchison, Commander of Canadian Defence Academy, Canadian Armed Forces (December).
MGen Brook "Tank" Leonard, Chief of Staff, US SPACE COMMAND (January)
BGen Dave Abboud, Chief of Staff of the Vice Chief of Defence Staff, Canadian Armed Forces (January).
Gain access to these exclusive interviews by acquiring an AOD Connect season pass.
4) WHEN THE RUBBER HITS THE ROAD
When The Rubber Hits The Road is a series geared towards practitioners and military and security personnel who are dipping their feet into the Ocean of design theory. This series of short 5-minute "micro-stories" from current military personnel will demonstrate practical aspects of design and how they apply it to their everyday work.
If you want to learn more about design through simple, practical examples from military personnel, get an AOD Connect pass to gain access to new videos as they become available in late November and throughout December and January.
Speakers and topics include:
Lcol Mathieu Primeau on Tools for Dealing with Difficult Personalities Participating in a Design Process
Major Travis Kelley on Selection of a Team
Lcol Timothy Day on Rapid Ideation - breaking out of a paradigm
5) CURRICULUM DEVELOPMENT OFFICER (CDO) CORNER (CDO)
The CDO Corner series is for Curriculum Development Officers and brings the community together to assist one another in design informed curriculum development. This series will involve a monthly workshop hosted by the AOD. Workshops will commence in December so be sure to register by acquiring an AOD Connect season pass to gain access to these exclusive workshops!
The Why, the How and the What for a Robust Design Curriculum: Learning from one another: December 14, 2021 at 9:00 AM ET
Mastering design facilitation online : January 6, 2022 at 10:00 AM ET
How to develop a robust design curriculum: January 25, 2022 at 7:00AM - 8:30AM ET
Designing a Design Curriculum for Team Leaders
Turning the design curriculum to the Dark Horse's Side
This series will rely on a Discord channel to discuss recommended readings, videos, key authors, approaches and methods aligned with the needs of participants.
Discord: https://discord.gg/BNnXjpwgkm
6) SOCIAL
The Social series is a community-building initiative that aims to foster a free exchange of ideas and possible innovation by connecting through informal networking events centered around a monthly design topic/theme. Each month's Social series will be accompanied by optional reading/viewing materials that will help guide your exploration of the topic and act as a starting point for open-ended discussions that will take place during the event. Details for each month's Social series event will be released during the first week of the month.
Coffee, Drinks, & Design Vol. 2: Tuesday November 23, 2021 @ 10 AM ET
This event will feature a discussion on "Narratives in Design," moderated by AOD Guild Council Member, Todd Landis.In the meantime, feel free to read the following short article for a military perspective on this month's topic: The Limits of Logic: Why Narrative Thinking is Better Suited to the Demands of Modern Combat.
https://mwi.usma.edu/the-limits-of-logic-why-narrative-thinking-is-better-suited-to-the-demands-of-modern-combat/
Coffee, Drinks, & Design Vol. 3: December 23, 2021 @ 10 AM ET
This event explores Organizational Rituals and Traditions; and how they can support or hinder creativity and innovation. Until then, here's a reading on The Dynamics of Organizational Culture.
https://www.researchgate.net/publication/271776324_The_Dynamics_of_Organizational_Culture