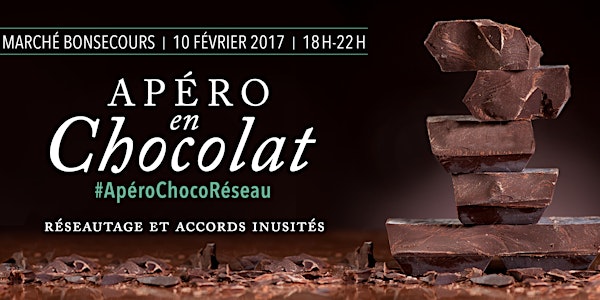 Date and time
Fri, Feb 10, 2017 6:00 PM - 10:00 PM EST
Location
Bonsecours Market 350 Rue Saint Paul Est Montréal, QC H2Y 1H2 Canada
Refund Policy
Contact the organizer to request a refund.
Description
#ApéroChocoRéseau
Ce premier Apéro en Chocolat présenté par Mangeons Montréal en partenariat avec Je t'aime en chocolat prend lieu le vendredi 10 février de 18h à 22h dans la mezzanine du Marché Bonsecours, au Vieux Port de Montréal.
La mission de Mangeons Montréal:
Rassembler les passionnés de produits de qualité dans un lieu enchanteur et vous faire vivre une expérience unique et riche en saveurs.
Inclus dans le billet:
1) Accès à 5 stations de dégustations et de découvertes
Vous serez guidé à travers différentes expériences gustatives, chacune mettant en valeur des accord vins-chocolats, ansi que plusieurs produits locaux tels que foie gras, fromages, etc.
2) Réseautage
Venez jaser avec d'autres foodies, entrepreneurs et professionels de l'alimentation, ou encore avec de pétillants producteurs qui nous serviront leurs délicieux produits!
Suivez sur nos réseaux sociaux pour le dévoilement des producteurs.
3) Une bonne cause alimentaire

Une partie des fonds récoltés sera reversée à Slow Food Montréal
Slow Food est une organisation internationale présente dans 160 pays qui repose sur un réseau local d'associations et envisage un monde où tous peuvent avoir accès à une nourriture bonne pour ceux qui la produisent, ceux qui la consomment et aussi pour la planète.
Au plaisir de vous y voir à l'#ApéroChocoRéseau
Faites vite, les billets sont limités!
Vente finale, pas de remboursement.
#ApéroChocoRéseau
Presenting the first Apéro en Chocolat, in partnership with Je t'aime en Chocolat, will take place on Friday February 10th from 6pm to 10 pm in the beautiful mezzanine of Marché Bonsecours in the Old Port of Montreal.
Mangeons Montreal's Mission
Bringing passionate foodies together in an enchanting location to share in a unique and delectable food experience.
What's included in your ticket:
1) Access to 5 Discovery & Pairing Stations

Let us guide you through a unique series of pairings including local wines, and products, such as cheeses, foie gras, and of course, chocolate!
2) Connecting

Meet and connect with other like-minded foodies, professionals, entrepreneurs and local producers during the event.
Keep an eye on our social media accounts where we will soon be revealing the participating producers.
3) A Good Food Cause
A portion of the proceeds of the event will be donated to Slow Food Montréal. Slow Food is an international organization present in 160 countries that is based on a local network of associations and envisions a world where everyone can have access to good food for themselves, for those who produce it and for the planet.
+++++Win door prizes from our lovely producers!+++++
Tickets are limited. Make sure to purchase yours in advance!
Final sale, no refund.
Looking forward to seeing you at #ApéroChocoRéseau
Merci à nos partenaires: