A cool fusion of funk instrumental, jazz and rock.
About this event
the Park Theatre Presents
Apollo Suns
w/ Amadians and Malcom-Jay
Friday, October 11th
Doors 8 pm | Show 9pm
Apollo Suns - Born from the fusing of four uniquely talented Winnipeg, Canada based musicians, Apollo Suns have created a refreshing and innovative sound combining instrumental, rock, jazz and experimental music.
Apollo Suns began in 2015 by Ed Durocher (guitar) and Dave Guenette's (bass) and they soon after picked up Ethan McKibben (drums) and Chad Braun(keyboards). Trumpet player, Phil Collins, and percussionist, Paul Klassen, often accompany their live shows.
Apollo Suns constantly challenge themselves in their writing by constructing jazz influenced songs with the end goal of maintaining an overall accessible and catchy track for listeners of all kinds.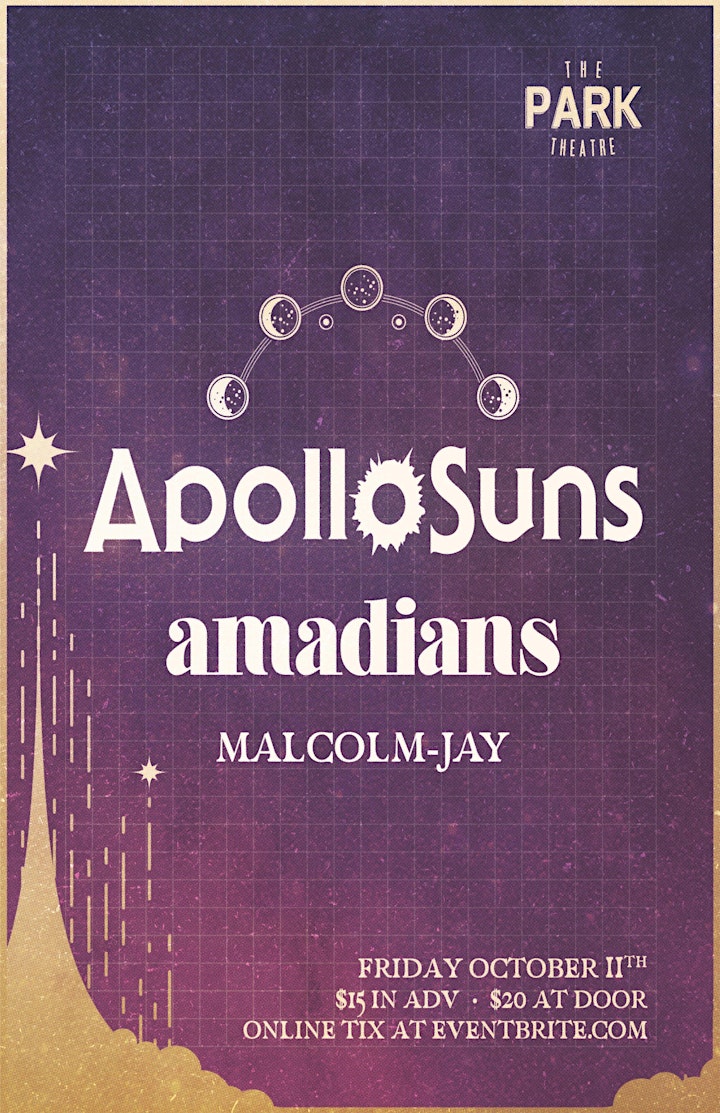 The Park Theatre, now in its fifteenth year of operations and has grown into one of Winnipeg's premier live event venues. With over 300 events a year spanning music, comedy, theatre, and film, the room has become home to an expansive community of artists.
In 2014 The Park Theatre was awarded "Venue of the Year" at the Western Canadian Music Award's, after being nominated for the same award in both 2012 and 2013.
The venue itself is a renovated movie theatre that opened in the fall of 1915. While many of Winnipeg's neighbourhood theatres have been demolished or "repurposed" into bowling alleys or retail stores. The Park managed to hold out for 73 years before fate caught up with it. After sitting vacant for nearly a decade it was revived into what is now one of Winnipeg's most popular live music venues.
With its high-quality sound, great atmosphere, two full-service bars, and premier live entertainment from local acts to international touring artists, it's no wonder that artists and audiences alike keep coming back.