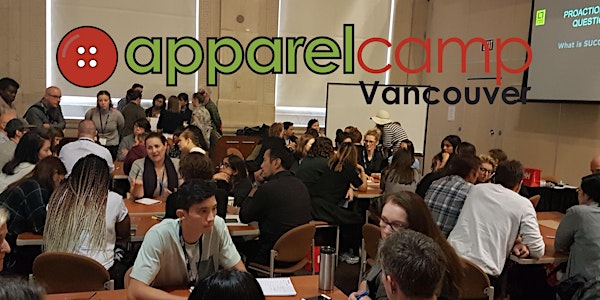 ApparelCamp Vancouver 2019
When and where
Location
SFU Segal Building 500 Granville Street Vancouver, BC V6C 1W6 Canada
Description
ApparelCamp Vancouver is a user-driven, collaborative "unconference" for people who work in the apparel and soft goods industry. The one-day event brings together passionate people who are interested in collaborating to share insights, learning best practices, and networking with other top professionals in Vancouver's apparel and soft goods industry.
Saturday, October 5th 2019
Your participation is required to make this a great event. You can present a session, sit on a panel discussion, or simply attend and network with fellow participants. If you have an idea for a session talk, send your thoughts to info@apparelcamp.org
Vote for the talks you want to hear.
Anyone who is interested in leading a session can submit a proposal. Proposed sessions will be voted on ONLINE by the ApparelCamp participants the week of the un-conference. The sessions that get the most interest will be on the event schedule.
Attend the sessions you want
Go to the talks that interest you. Not feeling it? No worries: find another session or network in the hall.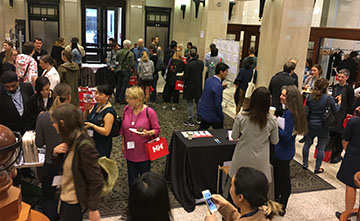 FAQs
Where can I contact the organizer with any questions?
info@apparelcamp.org
I don't want to suggest a topic or speak in front of people. Can I still attend?
Absolutely! There will be 15 different breakout sessions (45min.- 1 hour long), running concurrently in 3 different rooms, throughout the day so you are free to roam between rooms and listen to the topics that most interest you.
I want to lead a session at ApparelCamp. What should I do?
Send your topic idea to info@apparelcamp.org and we will make sure that your topic idea is posted to our website and ready to be voted on the week before October 5th 2019. You should be ready to present your topic in case your topic gets lots of votes!
I have volunteered to lead a session. Am I guaranteed to get a spot on the schedule?
No, there is no guarantee because all topics will be voted on online, in advance. The topics with the most votes will get placement on the schedule.
I have volunteered to lead a session. Do I still have to pay for a ticket?
Yes. There is no gurantee that your topic will get voted onto the schedule. So if you are interested in coming, it is best to secure your spot early on. This event sells out every year.
How do people vote?
We will send out an email the week before the event with instructions on how to vote online.