Description
1ST ANNUAL APPLE & PUMPKIN FESTIVAL RACE - Hosts Domaine Cleroux & Ferme Drouin
You can choose the race for you, 1.5km 5km 10km and every participant that completes the race receives a prize.
*Every participant receives a souvenir t-shirt except for kids 4 - 11 yrs old.
1.5km and 5km course is at the orchard
1.5km course is free for kids 4 to 11 years old (kids receive prize - no tshirt)
10 km course starts at the apple orchard and goes through the path in the woods, up the road to Ferme Drouin.
Activities at Domaine Cleroux: pick-your-own apples, wagon rides and chainsaw carving demonstration by Jag Woodworking.
Activities at Ferme Drouin: pick-your-own pumpkins, wagon rides, bouncy castles, indoor and outdoor games, visit of farm animals, entertainment and lunch.
For more information you can send your questions to clerouxram@xplornet.com
1ERE COURSE ANNUELLE DU FESTIVAL DE LA POMME ET DE LA CITROUILLE - Hôte Domaine Cleroux et Ferme Drouin
Vous pouvez choisir le parcours pour vous, 1.5km 5km 10km et chaque participant qui complète la course reçoit un prix.
*Chaque participant reçoit un t-shirt souvenir à l'exception des enfants de 4 - 11 ans.
Les parcours de 1.5km et 5km se dérouleront au verger.
Le parcours de 1.5km est gratuit pour les enfants de 4 à 11 ans (ceci inclu un prix mais pas de t-shirt)
Le parcours de 10km commence au verger en passant par le chemin dans la forêt, pour ensuite continuer sur la route jusqu'à la Ferme Drouin.
Activités au Domaine Cleroux: auto-cueillette pomme, tour de charette, et démonstration de sculpture avec tronçonneuse offert par Jag Woodworking.
Activités à la Ferme Drouin: auto-cueillette citrouille, tour de charette, structures gonflables, jeux intérieurs et extérieurs, visites des animaux, spectacles et dîner.
Pour plus d'information vous pouvez envoyer vos courriels à clerouxram@xplornet.com
FAQs
Are there ID or minimum age requirements to enter the event?
Kids 4 to 11 years old can participate to the 1.5km race for free but must be accompanied by an adult.
They do not get a t-shirt but they will receive a prize.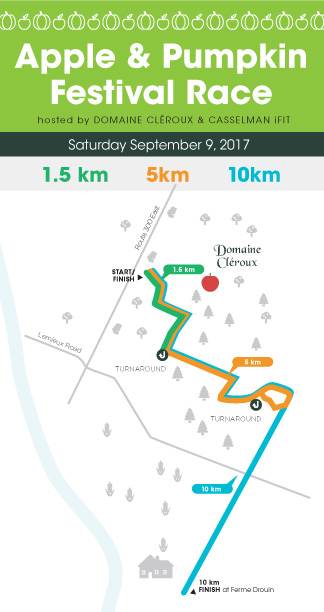 Date and Time
Location
Refund Policy