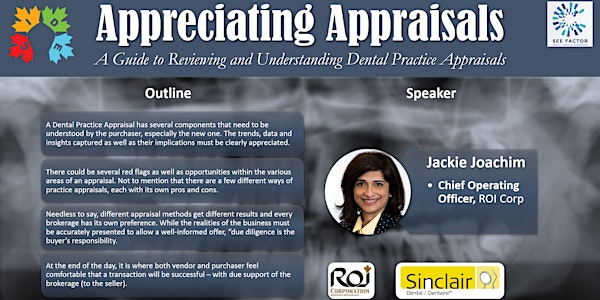 Appreciating Appraisals - Seeing the Red Flags & Opportunities
Description
A Dental Practice Appraisal has several components that need to be understood by the purchaser, especially the new one. The trends, data and insights captured as well as their implications must be clearly appreciated.
There could be several red flags as well as opportunities within the various areas of an appraisal. Not to mention that there are a few different ways of practice appraisals, each with its own pros and cons.
Needless to say, different appraisal methods get different results and every brokerage has its own preference. While the realities of the business must be accurately presented to allow a well-informed offer, "due diligence is the buyer's responsibility.
At the end of the day, it is where both vendor and purchaser feel comfortable that a transaction will be successful – with due support of the brokerage (to the seller).
Meeting Link will be sent to registrants by email.