April 2019 CGS-SOS Dinner Lecture - Numerical Modelling and Rock Mass Characterization Approaches for Design of Foundations in Weak Coralline Limestone

Wednesday, April 17, 2019 from 5:30 PM to 8:30 PM (EDT)
Event Details
Evening Program
5:30 Cocktails and socializing
6:30 Dinner
7:30 Lecture
Abstract
Integration of rock mass characterization and structural building behaviour observations, coupled with extensive use of numerical modelling methods were fundamentally important in developing an in-depth understanding of settlement issues related to very weak, vuggy, uncemented coralline limestone foundations in Barbados.  Replication of observed building behaviour was achieved through modelling of the weak vuggy openwork fabric of the coralline limestone through use of tesselation approaches within UDEC based on data acquired from a program of detailed diamond core drilling, coupled with downhole camera observations of rock mass conditions.  A micropiling and grouting design was developed to improve the conditions of the foundations and remedy the observed distress issues.  The design was developed based on structure-foundation interaction analyses considering both geotechnical and structural approaches, with use of FLAC as the principal code for assessment of interaction issues.  The original design assumptions and veracity of the numerical modelling assessments were checked by reviewing the drill-ability and grout-take data from the drilling and grouting during the installation of the micropiles used for strengthening the foundations and visualized in 3D.
Speaker
Dr. Joe Carvalho, P.Eng., is a rock mechanics and fracture mechanics specialist and a Principal of Golder Associates in the Mississauga office with more than 30 years of experience in the field. He is experienced in elasto-plastic, visco-elastic and poro-elastic analysis of stress, including stress analysis of large open pit mines, underground storage schemes and tunnels for subway and hydroelectric developments and for underground mine planning. He is also experienced in the analysis of fluid flow through porous media including diffusion processes and in fluid flow and mass transport in fractures (as applied to hydraulic fracturing of petroleum reservoirs for recovery enhancement). He also has considerable experience in probabilistic and risk assessment of surface and underground wedges, crown pillars for mine closure purposes, stability of open pits and long-term performance assessment and site characterisation for nuclear waste disposal.  Dr. Carvalho has extensive research and teaching experience.
When & Where

St. Bernard Church (Clairvaux Hall)
1789 Lawrence Avenue West
Toronto, ON M6L 1E3
Canada

Wednesday, April 17, 2019 from 5:30 PM to 8:30 PM (EDT)
Add to my calendar
Organizer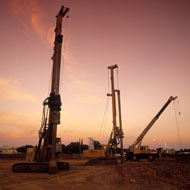 About Us
The Canadian Geotechnical Society Southern Ontario Section (CGS-SOS) represents the national organization at the local level centered at the Greater Toronto Area (GTA) and covering some cities in Southern Ontario. The CGS-SOS was established in the early 1970s and forms the largest region of the Society. Its purpose is to provide opportunities for continuing education (through lectures and seminars), and for constructive dialogue and sharing of experiences. This is accomplished through organizing events on about a monthly basis.
The Canadian Geotechnical Society (CGS) is an independent, federally incorporated, non-profit learned society which exists to serve and promote the geotechnical and geo-science community in Canada. It encompasses a wide spectrum of scientific and engineering disciplines within the geotechnical field. Membership is open to individuals from all sectors including private consulting, universities, industry, contracting and public services.