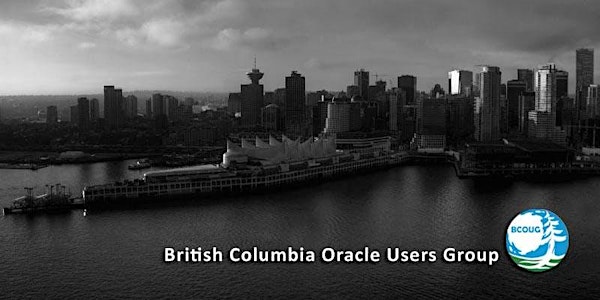 April 2019 Meeting - Docker and the Oracle Cloud Infrastructure
When and where
Location
BC Liquor Distribution Branch 3383 Gilmore Way Burnaby, BC V5G 4S1 Canada
Description
You are cordially invited to join the BCOUG at our next Vancouver event on April 3, 2019.
IMPORTANT: Please note the change in address for BC LDB.

Session 1
Topic: Using Docker for Oracle Database Professionals
Speaker: Sean Scott, Pythian
Abstract
When I first started using Docker as a platform for delivering databases to development teams, I had no idea what I was doing. The terminology was foreign. Docker's stateless and immutable nature seemed contradictory for use with a database. The usefulness of Oracle within Docker containers appeared narrow.
Since then I've learned that Oracle on Docker elegantly addresses a multitude of situations faced by database administrators and developers. Docker is now my go-to solution when I need an Oracle environment for testing or experimentation. It's surprisingly easy and fast once you're used to it, and the learning curve need not be steep.
In this talk, I share the things I wish I'd known about Docker when I first started using it, provide examples of common problems encountered by database professionals that are solved by Docker, and walk the audience through the steps for creating and using Oracle databases in Docker containers.
This presentation is intended for DBAs and developers new to Docker and containers who want to increase their understanding of the technology and begin using databases on Docker. Though the focus of the presentation is on Oracle, the material is applicable to other SQL and noSQL databases.
Participants will learn:

Docker terminology
The structures of containers and how they run and interact with a host
Practical examples of Oracle on Docker as a superior approach to traditional methods
Steps for installing and creating Oracle databases on Docker
How to configure programs running on the host, like SQL*Developer, to interact with a database
How to persist datafiles and data to achieve permanence outside of containers
How to move or share a database between containers, hosts, and operating systems
How to save customizations to Docker images
How to prepare an Oracle/Docker container to support more complex installations such as APEX
Session 2
Topic: Building Castles in the Air
Speaker: Adrian Png, Insum
Abstract
Moving beyond hype to reality, the Oracle Cloud has matured and is growing with new data centres coming online in 2019, including Canada. In this session, we will condense Oracle Cloud Infrastructure (OCI) offering and examine what are the decision points to consider and steps in building an Oracle Application Express (APEX) Infrastructure on the cloud.
About the Speakers
Sean Scott – Pythian
Sean has been administering Oracle databases since the late 20th century. His interests lie primarily in performance tuning, high availability, RAC, and automation.
Adrian Png - Insum
Adrian Png is a Senior Consultant at Insum. He has spent the last two decades designing and implementing software solutions using a wide variety of programming languages. Adrian has a deep passion for Oracle Application Express, and using this tool, he has helped many organizations succeed in developing robust data management practices. As a full-stack developer, he also does double-duty as a database and cloud administrator. 'Design for the user' is his motto, and he continually seeks to optimize processes and adopt new strategies and technologies to improve how data is captured, integrated, and used effectively.