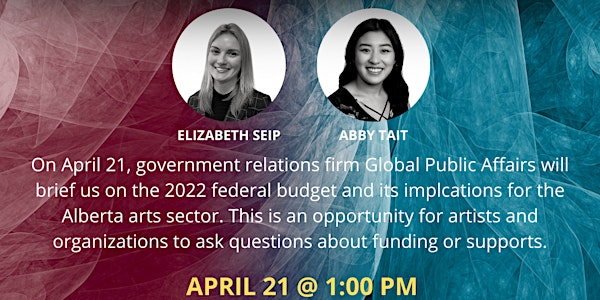 April 21 Critical Conversations Webinar
Rozsa Foundation, Calgary Foundation, Calgary Arts Development, and Rise Up Calgary present
Date and time
Thu, Apr 21, 2022 12:00 PM - 1:30 PM PDT
About this event
This arts community conversation will focus on moving into a world without mandated health restrictions. Beginning March 1, 2022, masking indoors and capacity limits will no longer be required by the government, but where does this leave your organization, your venues, and your patrons?
On April 21, government relations firm Global Public Affairs will brief us on the 2022 federal budget and its implications for the Alberta arts sector. This is an opportunity for artists, arts administrators, and arts organizations to ask questions about funding or supports, and get clarity around programs.
Special Guests include: Elizabeth Seip and Abby Tait from Global Public Affairs.
About the organizer
We inspire philanthropy, support the charitable sector and build a permanent endowment to address the current and future needs of people in our community.