April 26th, 2017 PPREIG event - With Guest: Brad Pentz
Description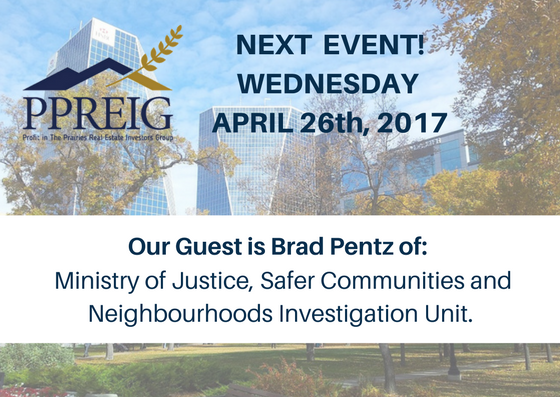 It's that time again!
Time to get together to see familiar faces, make new connections, share our REI opportunities, talk about our recent wins, discuss new #YQR developments, and hear from another amazing guest speaker!
Join us on Wednesday, April 26th, 2017 at the The Sandman Hotel & Suites to give a warm welcome to Guest Speaker, Brad Pentz of the Government of Saskatchewan, Ministry of Justice, Safer Communities and Neighbourhoods Investigation Unit.
Doors open: 6:30pm for networking
Presenter starts: 7:00pm
There will be time afterwards for plenty of networking and to present any deals or opportunities that you may have!
Remember, your first time out is free so feel free to bring a friend or an associate who is also involved in real estate or local businesss.
Brad Pentz will share more about their community initiative and how you can benefit from the services that they provide.
"On any block and in any neighbourhood, it only takes one house that is harbouring illegal activities to undermine the safety of all residents of that community and affect the property values throughout that neighbourhood," said Justice Minister Frank Quennell.
See you soon!
PPREIG Team