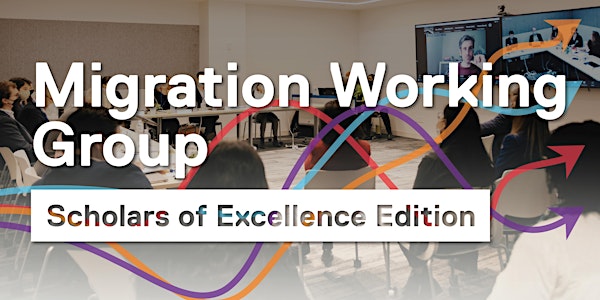 April Migration Working Group: Scholars of Excellence Edition
A series of monthly sessions to discuss the innovative research being done on migration by emerging and established scholars
By CERC in Migration and Integration
Date and time
Wednesday, April 19 · 10am - 4:15pm EDT
Location
CERC Migration 220 Yonge Street Toronto, ON M5B 2H1 Canada
About this event
6 hours 15 minutes

Mobile eTicket
In spring 2023, our visiting Scholars of Excellence will lead workshops. The workshop is co-convened by Oliver Bakewell, University of Manchester, Nicola Piper, Queen Mary University of London and Anna Triandafyllidou, chair CERC Migration.
OVERVIEW
Migration is viewed as one of the important transnational governance challenges of our times by policymakers. Even though international migration remains a contested topic – countries of origin and destination, migrants and their families, civil society organizations and international institutions having different views and interests – a consensus has been rising among a core group of states (primarily drawn from OECD members) and global institutions in recent years, that migration can only be mutually beneficial (a win-win-win situation for migrants, countries of origin and countries of destination) if it is safe, regular and orderly. This is encapsulated in the Global Compact for Safe Orderly and Regular Migration from 2018. The narrative of the 'good' regular migration has become dominant, if not hegemonic, obscuring alternative perspectives on the needs and interests of different actors involved in the governance of international migration. This workshop challenges this consensus by articulating views of migration from outside this core group, particularly drawing on insights from Africa, Asia and Latin America.
The first panel discusses the political economy of knowledge production on migration and its governance and the ways in which donors, international organizations, and states can shape how we talk about and study migration and the terminology we use or the perspectives we privilege. The second panel elaborates on the side effects of safe, orderly and regular migration governance showcasing how in some cases regulated migration can be unsafe and unfair for migrants. The aim of the workshop is to de-centre our investigation in multiple directions: towards different world regions, towards a multitude of governance actors and towards alternative policy paradigms.
PANELS INCLUDE:
Panel 1: Political economy of knowledge production
Chair: Nicola Piper
Exclusions and disconnections: Migration and food insecurity in global and local knowledge production | Jonathan Crush, Balsillie School of International Affairs, Wilfrid Laurier University
The state in the field: Mitigation policy to counterbalance temporary workers' vulnerability in Canada | Danièle Bélanger, Université Laval
The necropolitical production and management of forced migration | Ariadna Lopez Estevez, Center for Research on North America (CISAN- UNAM)
Regional perspective/s on global governance of migration | Nicola Piper, Queen Mary University of London and Oliver Bakewell, University of Manchester
Panel 2: Unpacking the 'safe, orderly and regular' nature of migration governance
Chair: Oliver Bakewell
Putting the 'safe' in labour migration governance in Africa: the role of regional organizations | Amanda Bisong, European Centre for Development Policy Management
African states and the EU: The trope and practice of "safe, orderly and regular" migration | Faisal Garba, University of Cape Town
Middle space actors (intermediaries): The case of Nepali migrant workers to Malaysia | Yvonne Khor, Monash University Malaysia
De-centring migration governance in a post pandemic world | Anna Triandafyllidou, CERC Migration, Toronto Metropolitan University
Please note: This working group will be in a hybrid format. All presentations will be in person and working group participants are welcome to join in person or online via Zoom. Limited in-person seating is available on a first-come, first-served basis. Please indicate your preference to join online or in person on the registration form.
For more information, please visit our website.
About the organizer
The Canada Excellence Research Chair (CERC) in Migration and Integration is the first ever CERC awarded to Toronto Metropolitan University (formerly Ryerson University), building on the university's strengths and commitments in the area of immigration and settlement studies.
The CERC in Migration and Integration is producing innovative and usable knowledge on the links between migration and post-migration processes, forced and voluntary mobility, internal and international migration, and the role of countries of origin and transit. The CERC pays special attention to Canadian realities while also engaging in comparative research with and among other countries in various global regions.