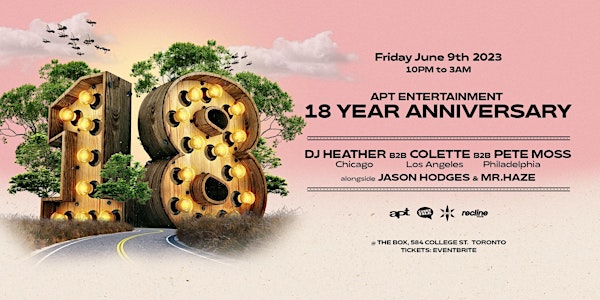 apt 18yr! DJ Heather b2b Colette b2b Pete Moss
APT 18YR ANNIVERSARY! DJ HEATHER B2B COLETTE B2B PETE MOSS
Date and time
Fri, Jun 9, 2023 10:00 PM - Sun, Jun 11, 2023 3:00 AM EDT
Location
THE BOX 584 College Street Toronto, ON M6G 1B3 Canada
About this event
1 day 5 hours

Mobile eTicket
🔥 APT 18YR ANNIVERSARY! DJ HEATHER B2B COLETTE B2B PETE MOSS 🔥
🚨 VENUE ANNOUNCED: THE BOX, 584 College St 🚨
Celebrating our 18 year journey full of House music love, sweat and sleepless nights with a back2back2back DJ extravaganza! Join us in Toronto with apt roster premier selectas DJ HEATHER, COLETTE & PETE MOSS throwing down back2back House Music heat alongside our local apt resident bangers Jason Hodges & Mr.Haze! Don't miss out... grab your tickets, start stretching and get ready to dance your ass off!!!! 🥳
FRIDAY JUNE 9
APT 18 YEAR ANNIVERSARY
DJ Heather b2b Colette b2b Pete Moss
alongside Jason Hodges & Mr.Haze
Doors 10PM
@ The BOX, 584 COLLEGE STREET
DJ HEATHER: H IS FOR HUSTLE
Blackcherry Recordings, Apollo
http://www.djheatherchicago.com/
IG @djheather
DJ Heather is a highly respected and talented DJ from Brooklyn who has made a name for herself in the Chicago music scene and the world at large. She is known for her versatile style, which incorporates a wide variety of genres including hip hop, house, jazz, soul, R&B, disco classics, and rare groove. Throughout her career, she has focused on developing her skills and versatility as an entertainer, and is considered one of the premier selectors in the nation. Her ability to seamlessly blend different genres of music and create a unique and engaging experience for her audience has made her a favorite among music lovers in Chicago and around the world. Her performances are known for their energy and passion, as well as her ability to connect with the crowd and create a sense of community on the dance floor. She's on tour in support of upcoming releases and her weekly H is for Hustle Twitch show.
COLETTE: WHEN THE MUSIC'S LOUD 10 YEAR
Candy Talk Records
IG @djcolette
Chicago native and Los Angeles resident Colette has a unique career trajectory and influence as an international DJ, singer, songwriter, and landmark figure of American dance music. Colette has been an integral part of the Midwestern underground since 1994. Colette's third studio album, 'When The Music's Loud', featuring the single "Hotwire" and would see Billboard name it one of the top 20 Dance Music Albums of 2013, and Thump/VICE naming it "One of The 99 Greatest Dance Albums of All Time" in July of 2015. 2022-23 sees Colette starting work on her fifth studio album, releasing a new EP "Message in a Bottle" alongside launching her "Future Deep" tour with Pete Moss, playing select Second City Sessions shows with DJ Heather.
PETE MOSS: 30 YEAR
Recline, Ovum
IG @mossphilly
Following his beginnings providing soundtracks for sunrises up and down the East Coast, Pete Moss settled himself down in Philly, a city with a warm reception to the soulful sounds of his selections. Having gathered equipment along the way, he focused intently on production and gained encouragement and inspiration from the likes of King Britt, Josh Wink, and the whole Ovum cast & crew. With his outer space dance floor excursions, the genre-bending Pete Moss started his recording career with his own label, Recline Records. 1998's "Relocation EP" set into motion a string of memorable dance floor moments over the course of the next three decades. He has also been remixed by some heavy hitters, including Josh Wink, The Timewriter, Satoshi Tomiie, just to name a few. Pete developed into one of dance music's finest talents and reminds us constantly with his late night sets and soulful, impeccable production skills. His present releases are staples for the community that no self respecting DJ would be caught without. Prolific and hard working, Pete has served up a steady stream of music despite his hectic travel schedule that has taken him around the world more times than he can count, giving his all at every gig and leaving people touched and inspired by his signature deep and eclectic sound. Pete Moss is celebrating 30 years doing his underground thing, over 300 records and countless shows later, he's doing a special tour and has a new mix to mark the occasion!
With local support ❤️
Jason Hodges @jasonhodgesto
Mr. Haze @mrhazeofficial
Brought to you by Apt Entertainment Inc & Friends
About the organizer
Apt Entertainment
DJ/Live PA Bookings. Tour Management. Events & Promotions.
Supporting #UndergroundProud events... where House is a Feelin'!
http://www.aptentertainment.com
https://www.facebook.com/aptentertainment
https://www.mixcloud.com/aptentertainment
https://soundcloud.com/aptentinc