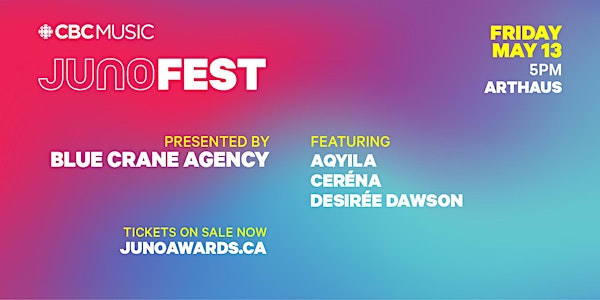 Aqyila + Ceréna + Desirée Dawson
Blue Crane Agency Presents
Performers
Aqyila, Ceréna, Desirée Dawson
Location
ArtHaus
60 Lindsey Avenue
Toronto, ON M6H 1E3
Canada
Blue Crane Agency Presents CBC MUSIC JUNOfest: ArtHaus ft. Aqyila, Ceréna, and Desirée Dawson
About this event
Blue Crane Agency Presents CBC MUSIC JUNOfest: ArtHaus, an intimate backyard performance show featuring performances from Aqyila, Ceréna and Desirée Dawson.
•
Tickets for the acclaimed and reinvented concert series CBC Music JUNOfest are now available for sale at junofest.ca. The much-missed annual music celebration will take over iconic Toronto music venues across the city with a roster of Canadian artists and 2022 JUNO Awards nominees across many genres.
Over 35 musical acts, including some of the country's top touring talent, are involved in this year's festivities, which begin on Thursday, April 21, when JUNO nominees Afrikana Soul Sister, Beny Esguerra and New Tradition Music, Donné Roberts and Moonshine take the stage for the CBC Music JUNOfest: Frequencies Showcase at Lula Lounge.
Title sponsor CBC Music will also add to this year's festival with a series of curated showcases including a Frequencies Showcase hosted by Errol Nazareth, a Jazz showcase hosted by Ismaila Alfa, and The Block showcase hosted by Angeline Tetteh-Wayoe.
All revenue from select shows will go directly to the MusiCounts Band Aid Program. MusiCounts, Canada's music education charity associated with The JUNO Awards, is celebrating their 25th anniversary.
Additional shows and a full CBC Music JUNOfest schedule will be announced in the coming weeks. Visit junofest.ca for more information.
COVID-19 MATTERS
While attending CBC MUSIC JUNOfest shows, you must abide by the policies of any of the venues hosting any portion of CBC MUSIC JUNOfest, including their policies related to COVID-19, as well as any of CARAS' COVID-19 policies in place from time to time. Failure to abide by such policies may result in the venues and/or CARAS taking remedial action against you, including prohibiting you from attending the event and/or removing you from the premises. Refunds will not be issued should you be removed from the event or any premises (or prohibited from attending) for any reason, including for failing to abide by applicable COVID policies and protocols.
••
General Admission 19+ event. Valid government issued photo ID is required in order to enter. Artists and event schedule subject to change. Event subject to change in support of evolving public health protocols.