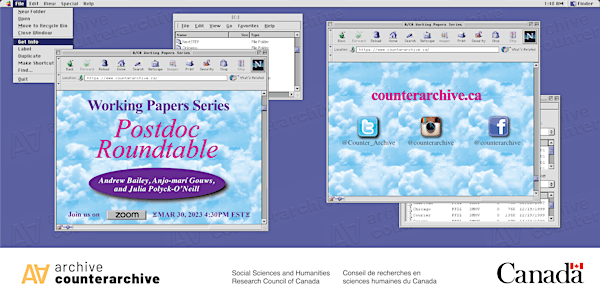 Archive/Counter-Archive Working Papers Series Presents a Postdoc Roundtable
Featuring Andrew Bailey, Anjo-marí Gouws, and Julia Polyck-O'Neill
By Archive/Counter-Archive
Date and time
Thu, Mar 30, 2023 1:30 PM - 3:00 PM PDT
About this event
1 hour 30 minutes

Mobile eTicket
Join us for another online iteration of the Archive/Counter-Archive Working Papers Series, which brings together PhD students and graduate researchers from different Universities to hear about exciting work in the area of archival studies. Our next event is a roundtable featuring A/CA post-doctoral researchers Andrew Bailey, Anjo-marí Gouws, and Julia Polyck-O'Neill. Their presentations will be followed by a Q&A with the audience, moderated by our student organizers, Emily Barton and Elina Lex.
NOTE: The Zoom link will be emailed to all who register on March 29.
Devious Archives: Examining the Paratextual Histories of Independent Horror Videogames
Andrew Bailey is a Mitacs Accelerate Postdoctoral Fellow with York University and Archive/Counter-Archive. He recently earned his Ph.D. in Art History and Visual Culture at York University with a dissertation focused on formalism and medium-specificity within videogame art history. Andrew also currently teaches game studies at OCAD University and has previously worked as the Section Head of Essays for First Person Scholar (The Games Institute/the University of Waterloo) and Co-Vice Editor for Press Start Journal (the University of Glasgow). His writing has been recently published in the Videogame Art Reader, Critical Distance, Loading: The Journal of the Canadian Game Studies Association, and Metacritic Journal for Comparative Studies and Literature, and he has upcoming chapters in game studies anthologies from Routledge, Taylor & Francis Group, and Louisana University Press.
By Brakhage and the Many Jobs of Jane Wodening: A Reckoning
Anjo-marí Gouws is a SSHRC Postdoctoral Fellow in the Department of Cinema and Media Arts at York University in Toronto. Her current project, Personal Clutter: The Diary as Domestic Archive, 1960-1980, is a continuation of her interest in women's work, feminist archives, and forms of personal documentation. She is writing a monograph on experimental filmmaker Anne Charlotte Robertson.
Responsive Archives: Feminist, Digital Strategies and Relationality in the Interdisciplinary Artist's Archive
Julia Polyck-O'Neill is an artist, curator, critic, poet, and writer. A former visiting scholar at Chelsea College of Arts (University of the Arts London), lecturer at the Obama Institute at Johannes Gutenberg Universität Mainz (2017-18), and international fellow of the Electronic Literature Organization, she is currently a Social Sciences and Humanities Research Council (SSHRC) Postdoctoral Fellow in the department of Visual Art and Art History and the Sensorium Centre for Digital Arts and Technology at York University (Toronto) where she studies digital, feminist approaches to interdisciplinary artists' archives. She is a postdoctoral affiliate of the Archive/Counter-Archive Project, a member of the Feminist Media Studio, and a Research Associate with the Robarts Centre for Canadian Studies. Her writing has been published in Zeitschrift für Ästhetik und Allgemeine Kunstwissenschaft (The Journal for Aesthetics and General Art History), English Studies in Canada, DeGruyter Open Cultural Studies, BC Studies, Canadian Literature, and other places.
Please note this talk will have captioning.
Archive/Counter-Archive is a SSHRC project dedicated to activating and remediating audiovisual archives created by Indigenous Peoples (First Nations, Métis, Inuit), Black communities and People of Colour, womxn, LGBT2Q+ and immigrant communities. With 60+ participants, Archive/Counter-Archive looks to address how political, resistant, and community-based counter-archives disrupt conventional narratives and enrich our histories. www.counterarchive.ca