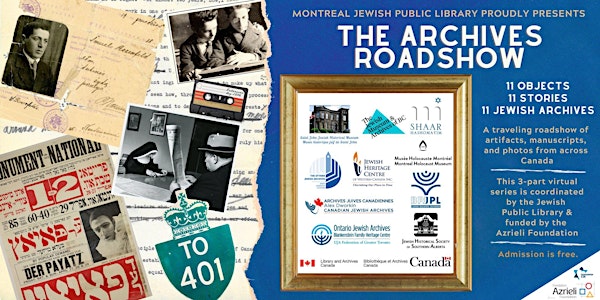 Archives Roadshow: 11 Objects, 11 Stories, 11 Jewish Archives (Part One)
Part one of a three part series featuring Jewish archival collections from across Canada.
About this event
Jewish archival collections across Canada hold objects that together comprise the collective memory of Jews who have lived here for centuries. Using one object from their respective collections, eleven archivists from the west to the east coasts of the country will share the stories of these objects that distill the role and importance of their collection in their regional spaces but within the larger context of the Canadian Jewish experience. As part of the Azrieli Foundation's funding of the Jewish Public Library's (JPL) Digital Transformation Initiative, we are gathering our partners from across the country to give voice to memory.
Part One features:
Montreal Holocaust Museum – Montreal, Quebec
Saint John Jewish Historical Museum – Saint John, New Brunswick
Library and Archives Canada – Ottawa, Ontario
Jewish Public Library – Montreal, Quebec
Event time: 9 a.m. (PST), 10 a.m. (MST), 11 a.m. (CST), 12 p.m. (EST)
*****
This is the first part of a three part series, coordinated by the Jewish Public Library and funded by the Azrieli Foundation.
Part Two (Sunday, November 27, 2022):
Ontario Jewish Archives, Blankenstein Family Heritage Centre – Toronto, Ontario
Alex Dworkin Canadian Jewish Archives – Montreal, Quebec
Congregation Shaar Hashomayim – Montreal, Quebec
Ottawa Jewish Archives – Ottawa, Ontario
Event time: 10 a.m. (PST), 11 a.m. (MST), 12 p.m. (CST), 1 p.m. (EST)
Part Three (Sunday December 11, 2022):
Jewish Museum and Archives of British Columbia – Vancouver, British Columbia
Jewish Historical Society of Southern Alberta – Calgary, Alberta
Jewish Heritage Centre of Western Canada – Winnipeg, Manitoba
Event time: 12 p.m. (PST), 1 p.m. (MST), 2 p.m. (CST), 3 p.m. (EST)