Description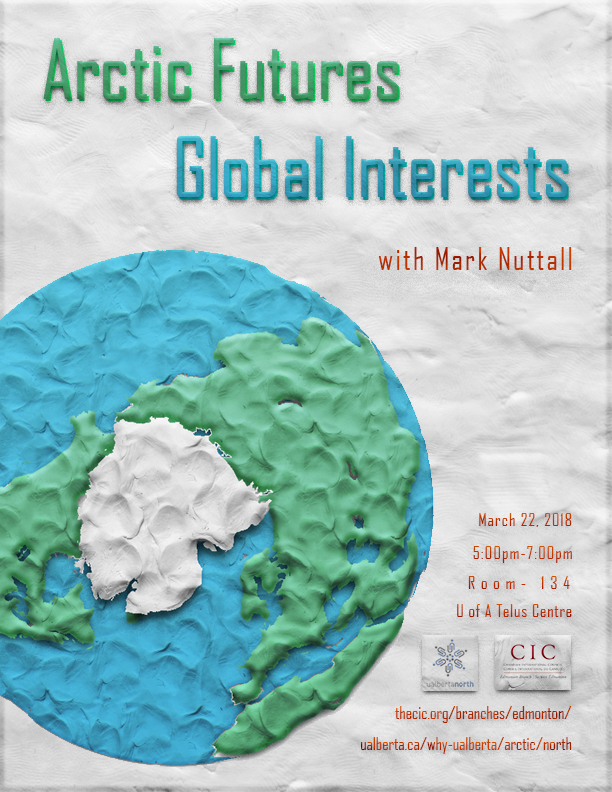 This event will be a lecture by Dr. Mark Nuttall of the Department of Anthropology at the Univeristy of Alberta. Appetizers and networking to follow Dr. Nuttall's lecture.
The lecture explores contemporary issues in the Canadian Arctic and other parts of the circumpolar North, within a context of climate change and discussions of northern futures. The question of who has rights over access to Arctic lands and waters, as well as who has ownership of resources and rights to their exploitation has shaped historical and contemporary relations between Indigenous peoples and Arctic states. Land claims and self-government have given Indigenous peoples ownership of traditional lands, but also of subsurface resources in many parts of the Arctic. Sovereignty also means different things from an Indigenous perspective. But just as Arctic peoples assert their rights, many other interests are at play in the high latitudes of the world as non-Arctic states become more engaged in the region. This lecture considers the Arctic within the context of how local, national, circumpolar and global agendas and interests are interacting, and often conflicting, with one another and ponders what some of the trends, influences and processes could be that will shape the region's future.
Speaker's biography
Mark Nuttall is a social anthropologist with extensive experience of research in many parts of the Arctic. He is Professor and Henry Marshall Tory Chair in the Department of Anthropology at the University of Alberta. Mark is also visiting Professor of Climate and Society at the University of Greenland and the Greenland Climate Research Centre in Nuuk and is Senior Associate Scientist at the Stefansson Arctic Institute in Akureyri, Iceland. He is author and editor of several books on the anthropology and geopolitics of the Arctic, is a Fellow of the Royal Society of Canada, and a member of the Norwegian Scientific Academy for Polar Research.