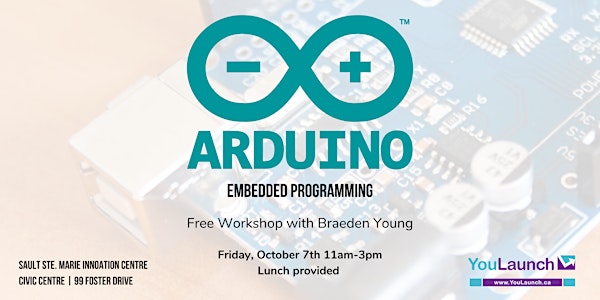 Arduino Embedded Programming
Arduino: Embedded Programming - a hands-on workshop for all skill levels! A free workshop with Braeden Young. Lunch provided.
When and where
Location
Sault Ste Marie Innovation Centre 99 Foster Drive Sault Ste. Marie, ON P6A 5X6 Canada
About this event
Did you know that most interactive home electronics including remote controls, sensors, games, and toys have microcontrollers? This workshop will provide you with a basic understanding of how to work with microcontrollers and introduce you to how embedded programming can manipulate real world objects. We will also introduce a variety of external components to extend the functionality of the platform, including pushbuttons, sensors, and LED strips.
Required skills: None! This workshop is recommended for teens to seniors!
Required equipment: Please bring a laptop with the required driver downloaded (tutorial below) – if you do not have a laptop, select "I do not have a laptop" below, and we will provide one for the workshop. Arduino kits will be provided for use during workshop.
Download this driver: Here is a tutorial on how to download the required CH340 driver.
Instructor Bio: Braeden Young is a maker who has been developing software for 9 years at Workiva.
Lunch and refreshments are provided with this workshop!