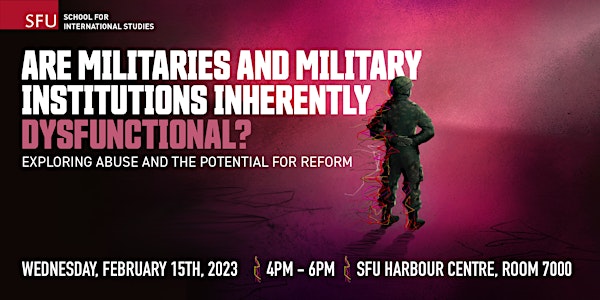 Are Militaries and Military Institutions Inherently Dysfunctional?
Join the School for International Studies as we explore the abuse and potential for reform within the world of militarized institutions.
By SFU School for International Studies
When and where
Date and time
Starts on Wed, Feb 15, 2023 4:00 PM PST
Location
SFU Harbour Centre 515 W Hastings St HC7000 Vancouver, BC V6B 5K3 Canada
About this event
This panel presentation brings together experts from Sociology, Anthropology, Gender Studies, and Political Science to explore whether militarized institutions— including militaries, police forces, prisons, and rebel groups— are inherently dysfunctional and violent, or whether reform and rehabilitation might be possible. These experts draw on diverse methods and focus on a range of issues and cases to explore this question of reform versus dysfunction, including reformative projects in Rio de Janeiro's prison system, responses to sexual assault committed by UN Peacekeepers and Canadian soldiers, ideas of "reforming" rebels to become legal actors in democratic politics of countries emerging from civil war, the New Zealand Defence forces efforts to 'regender' the forces, and the concept of defence abuse and how it relates to martial masculinities and defence and veteran suicide in Australia.
Presenters
Colleen Bell is an Associate Professor in the Department of Political Studies at the University of Saskatchewan.
Megan MacKenzie is a Professor and the Simons Chair in International Law and Human Security, and Director of the School for International Studies at Simon Fraser University.
Sally Sharif is the Simons Foundation Canada Postdoctoral Fellow at the School for International Studies at Simon Fraser University and holds a PhD in Political Science from the Graduate Center of the City University of New York.
David Thompson is the Wenner-Gren Hunt Postdoctoral Fellow at Simon Fraser's School for International Studies and holds a PhD in Sociocultural Anthropology from the University of California, Berkeley
Ben Wadham is a Professor of Sociology in Veteran Studies at Flinders University in Australia and the Director of Open Door: Understanding and Supporting Service Personnel and their Families.
About the organizer
The School for International Studies is a part of SFU: The Canadian university that is Engaging the World