Description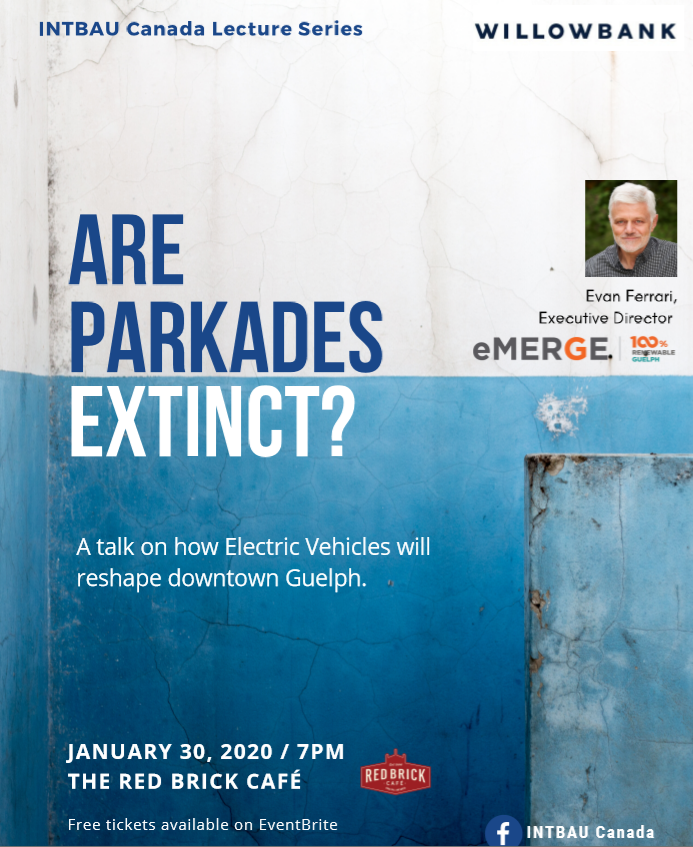 A talk on how Electric Vehicles will reshape downtown Guelph by Evan Ferrari, Executive Director, eMERGE Guelph Sustainability.
We have to 'store' our cars more than 90% of the time. That's right - we use them less than 10% of the time.
And society has paid heavily for this by using more and more land for parking. While technology can't solve all of society's ills, up and coming electric and autonomous vehicles have the opportunity to re-shape our downtown – taking the emphasis away from cars and making it more people centric.
Join Us as Evan Ferrari from eMERGE Guelph Sustainability argues that the quicker we can move to electric mobility, the faster we can re-vitalize downtown.
About Evan Ferrari:
Environmental stewardship and community development have been prominent themes throughout Evan's life: from founding a water-pumping windmill project in Tanzania, changing legislation on wilderness conservation and paddling from the Great Lakes to the Arctic Ocean. He is the Executive Director of eMERGE Guelph Sustainability.
For more on how eMERGE fights climate change http://emergeguelph.ca/
Organizer of Are Parkades Extinct?
The INTBAU Canada Chapter was established in 2007 and focuses on local building traditions and issues of rapid urban development with specific emphasis on:
New constructions using traditional patterns

Relationship between new construction and local identity

Local economies and initiatives implied in building and regeneration

Sustainable construction and low energy alternatives

Importance of traditional patterns vs. urban sprawl and current urban forms

Heritage conservation

New construction in and around heritage sites

Importance of traditional craftsmanship/skills/materials (stone carving, earth construction, etc.)

Low rise density models

Developing a holistic set of practices
On November 10, 2016 Willowbank became the host of the Canadian Chapter of INTBAU
For more on INTBAU Canada: http://willowbank.ca/wpdir/intbau/