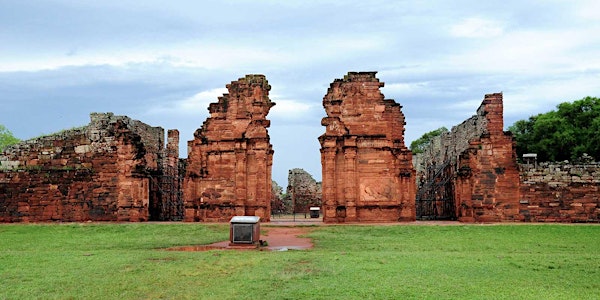 Argentina: Jesuit Missions
This webinar is offered by the province of Cordoba, the province of Corrientes and the province of Misiones.
About this event
Sponsored by the National Institute of Tourism Promotion (INPROTUR)
In 1534 Ignatius of Loyola, along with six other young men who had known him at the University of Paris, made a retreat and joined him in vows of poverty, chastity, and a pilgrimage to Jerusalem. If this last promise was not possible, as it was not, they undertook to accept any apostolic work requested by the Pope. In 1539 Ignatius drew up the first outline of the organization of the Order, which His Holiness Paul III approved on September 27, 1540.
This Order, of which Pope Francis is a member, is called the Society of Jesus and played a prominent role in the initial impulse on the territories that currently constitute a good part of Argentina—specially dedicated to educational and productive work, from its establishment in 1599 until its expulsion by Order of the Spanish monarch Carlos III. The so-called Temporalities Board liquidated the facilities at a vile price. Although the Jesuit missions installed between the 17th and 18th centuries in the current provinces of Misiones, Corrientes and Córdoba are better known, and they were established in almost all of the territories then occupied by the Spanish crown in this part of the continent.
Condensing the history of the Religious Congregation of San Ignacio de Loyola in a single note is impossible, so we will only limit ourselves to remembering its foundational bases, the passage through the Argentine territory and its performance in it.
Webinar organized by:
Viel Marketing International, Inc.
Toronto, ON Canada
webinar@vielmarketing.com
Wish to offer your webinar to the travel industry, please contact us.