A ritual to harness the powers of Aries and the full moon
About this event
FEED YOUR FEARS TO THE FLAMES
Aries is a head-strong, motivated, manifesting genius. Aries lives in the world with passion and strength. We are going to use the fiery energy of Aries to burn away our fears and return into power, confidence and love for ourselves in this ritual.
Our fears is one of the main things that keeps us playing small in our own lives. But Aries doesn't play small. Aries walks in the world proudly and acts on what he feels is right. We are going to celebrate Aries' strength by burning away our fears and return to love.
This is a very special event that includes different elements like meditation, visualisation, journaling and sound healing.
Arrive with an open mind and heart, allow yourself to be guided through the ritual and then relax and release to the healing sound of the gong.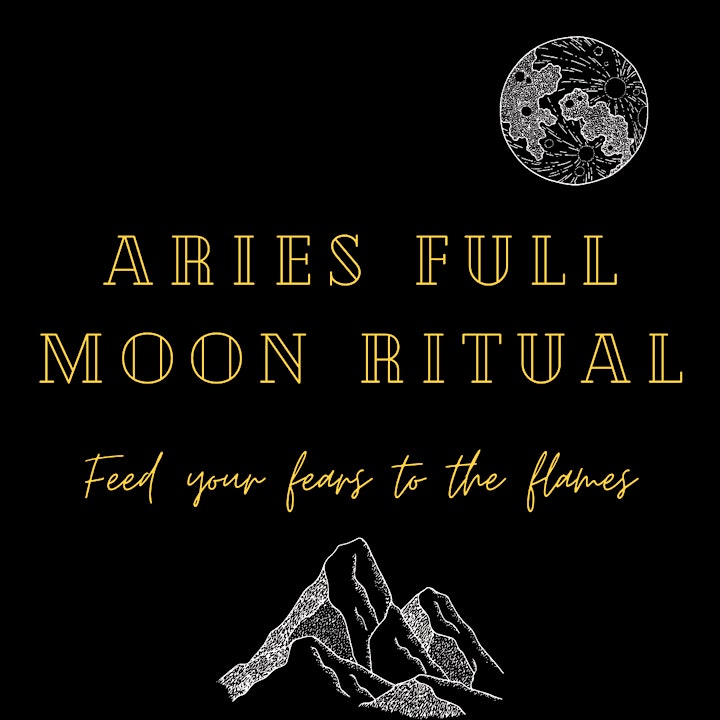 WHAT TO EXPECT FROM THE RITUAL
Just like life, each event is different from the last but the general structure looks like this:
Opening the space
A look at the current astrology
Meditation and movement
Journaling/Sharing
Gong bath
Brief moment for sharing/reflections
There are no expectations on you, other than to arrive, enjoy and relax.
WHAT TO EXPECT FROM THE SOUND BATH
In a gong bath you lie comfortably on a yoga mat and simply relax while being immersed in the sound of the gong. The body absorbs the frequencies and vibrations from the gong which brings the mind and body into a higher vibration and a state of deep relaxation. This aids in the reduction of stress and tension, also in the long term. These are similar results as you'd get from a dedicated meditation practice.
Effects of a gong bath:
Falling into a deeply relaxed state
Release of tension, energetic and emotional blockages
Dramatic improvement in your sleep quality
Experiencing higher states of consciousness
Coming out with a stronger sense of connection and awareness
What to bring:
You will want to wear soft clothing, preferably layers as you may get a little cold during the gong bath. You can even bring a blanket and pillow if you like!
Bring a water bottle and a journal and pen.
Please arrive 5-10 minutes before start, to make sure that you have time to get settled and that you don't miss out on the event! Doors close a few minutes before we start.
Eye masks and yoga mats are provided but you are very welcome to bring your own.
PLEASE NOTE that gong baths are not suitable for pregnant women in their first trimester, people running the risk of sound-induced seizures and/or people with severe mental health issues. Although, if you have questions please contact me directly and we can have a talk.
Find out more about this event by watching this video: