Description
ARKAYA HEALING RETREAT IN VICTORIA



Arkaya means light, healing and inspiration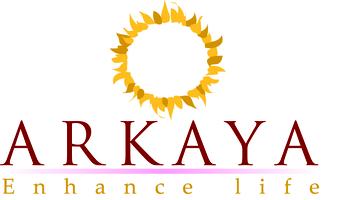 There is much talk of shadow sides and the dark night of the soul, yet very little about the artificial lights, so bright it depletes us and makes us squint at life. Yet instead of moving away from that artificial energy sucker we are made to believe there is something wrong with us and that we have to adjust to it, suffer it and, even worse let it blind us into elevating it to enlightenment. Many shadows paradoxically arise because of trying to always be in that floodlight or limelight.
- Yogacharini Maitreyi
In this weekend we will learn healing practices to remove the stagnation of this winter or many winters of the heart. We will clear and heal the physical, emotional and mental bodies and align with the cosmos - where the comfort of knowing deep within that you belong and are nurtured is fully there. The healing practices will enable us to remember this deep safety, ease and effortless effort. This unique blend of healing, mindfulness, energy enhancing and realignment practices has been systematised by Yogacharini Maitreyi.
The venue is the Church of Truth in Victoria, a beautiful space with high ceilings. We will also have two sound healing practitioners - Colin Hilstrom and David Yates.

Ester and Deborah are already offering regular Arkaya sessions in Victoria..... Those in Victoria are invited to connect with them at eszter.farkas@schooleymitchell.net and deraut@shaw.ca
DATES : March 24th and 25th 2018

TIME : Saturday: 10:30 AM to 5:30 PM and Sunday: 1:30 PM to 5:30 PM
INVESTMENT : $260 if paid by March 10th; 295$ after March 10th (accomodation, food and travel in Victoria not included).
Please make payment by cash, through Eventbrite or by e-transfer to rossmckeachie@gmail.com.
CONTACT : For all info or questions on Arkaya programs or payment options, please phone:
Ross at 604 358 9223 or Kiana at 250 797 2303 or email to infoarkaya@gmail.com

A UNIQUE OPPORTUNITY TO LEARN IN A RELAXED YET REFINED SPACE THAT YOGACHARINI MAITREYI AND THE ARKAYA COMMUNITY CREATE.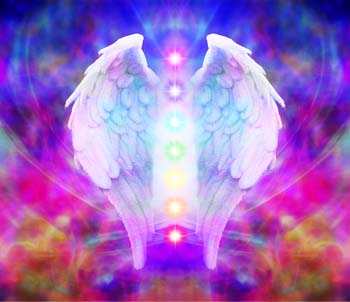 WHAT TO EXPECT
Yoga is the DANCE OF GIVING AND RECEIVING where the giver and receiver become one.
- Yogacharini Maitreyi
1. Expect to be relaxed and regenerated through learning to give and receive in balance. Tune into and shift guilt based or conditioning based giving into joy based giving and receiving
2. Healing attunement to not just intellectually understand about healthy boundaries but feel them in your body
Also learn about expanding boundaries to accommodate broader perspectives of life. This karmic clearing (reporgramming) may bring about some detox symbtoms, so prepare for the retreat by drinking enough water and a healthy lifestyle
3. First we will apply many tools on ourselves and support ourselves. Then we will also engage in healing practices with each other.
This will be healthy platonic healing touch. You do not have to come with a partner, however very transformational if family units, communities and friends can participate together.
Expect to love , be loved and BE LOVE
4. The session itself will be gentle and mindful and focused on integrating ones different dimentions.
YOGACHARINI MAITREYI seeing THE MYSTIC IN THE MUNDANE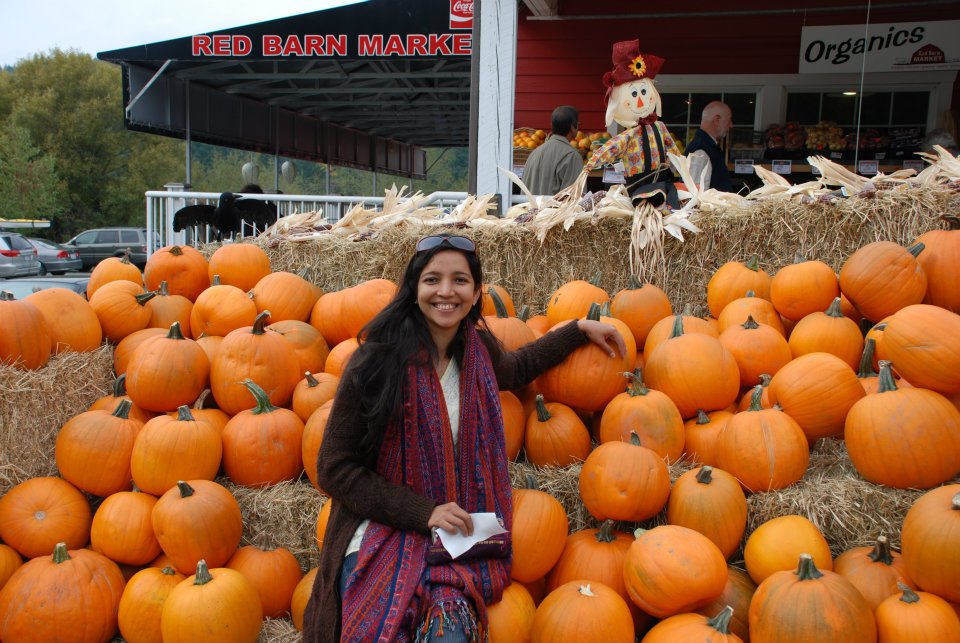 Photo of Maitreyi in Victoria
From an early age, Yogacharini Maitreyi was immersed in an evolutionary life and also formally studied Classical Yoga and rooted Tantra. Since 1997, she has been given many traditional titles like Yogacharini (Guide and Visionary), Yoga Chemmal (Expert) and Yoga Shiromani (Gem) in India, yet her teaching approach is down to earth and relaxed. Maitreyi was also asked to be on the Advisory Board of World Yoga Council in Europe in 2006. She has shared her wisdom in various countries like Sweden, Srilanka, Dubai, Bangladesh and Hong kong.

She is a Practical Mystic with over 100 published articles in leading Indian newspapers and magazines like The Economic Times, The Hindu, Times Wellness and Life Positive. She also runs a foundation for children living in slums in India.

When she is in Vancouver, she facilitates the Arkaya Teacher Training - a Self-awareness, Self discovery and Self-realisation program.

For more on the teacher training go to
https://www.eventbrite.ca/e/arkaya-healing-mindfulness-yoga-teacher-training-registration-39268991611
OR
https://www.facebook.com/events/2191871794403073/

SOUND HEALING ALCHEMISTS
Colin Hillstrom & David Yates will create beautiful healing sounds with their connected, transformational instruments.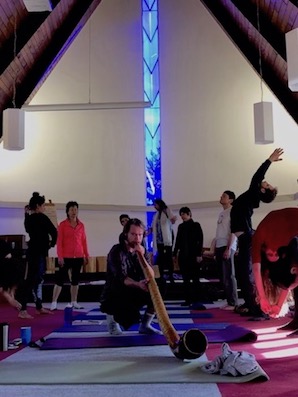 Photo of David playing the didgeridoo taken at the Arkaya New beginnings retreat in Gibsons
David Yates will provide music on the handpan, flute, didgeridoo, djembe and other instruments to help us move prana. Experience the vibrations created by this multi-instrumentalist, which will enhance the reconnection process you will experience throughout the weekend.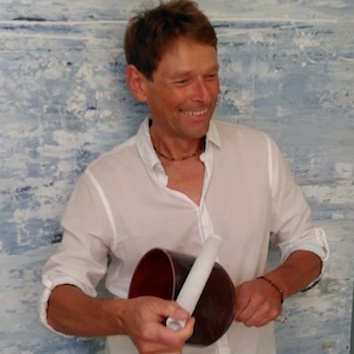 Colin Hillstrom will be closing both evenings with a beautiful sound bath. He is a certified sound healer, recording artist, spiritual coach and author. His 10 bowls are made from different precious gems and metals like gold, platinum and hence emanate vibrations to clear and rebalance the chakras.
When you attend a Chakra Sound Bath, you can quickly de-stress and re-balance your cells, nervous system, brain, mind and emotions. A perfect closing to assimilate all the chakra and multidimentional healing practices we will be imbibing during the Arkaya session.