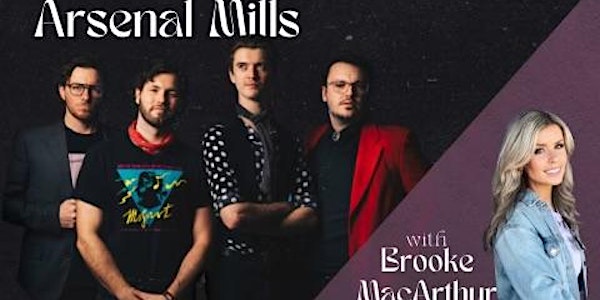 Arsenal Mills w/ Brooke MacArthur - May 21st - $25 *SOLD OUT
Location
Trailside Music Hall
155 Kent St.
Charlottetown, PE C1A 1N5
Canada
Arsenal Mills are Charlottetown's hottest new rock band! Known for their unique rock sound which draws influences from pop, blues & country.
About this event
Arsenal Mills is a 4-piece rock/blues band from Charlottetown, Prince Edward Island. Formerly The Brad Milligan Band, this new lineup of artists has made it their goal to reimagine modern rock and roll.
Known for their unique Rock sound which draws influences from Power Pop, Blues and Country. Formulaically designed to bring out the best and most powerful emotions expressed in their lyrics. The music is complemented perfectly by a live show full of energy and soul.
Forming in late 2019, Arsenal Mills has already become a force in the Canadian music scene. Gaining traction with thousands of streams on their debut singles; 'Lovesick & Broke' and 'The Bleeding Heart'. After recently teaming up with PR Agent and marketing mastermind, Eric Alper, the band has had radio play all across Canada, as well as features in well known publications such as; Tinnitist, Recordworld and Canadian Beats in both Canada and the US. Arsenal Mills are truly poised to make a major impact with their upcoming debut album.
Arsenal Mills is Brad Milligan, Griff Arsenault, Josh MacNeil and Andre U.
Born and raised in Prince Edward Island, Brooke has always had a passion for music. She started playing guitar and performing at the age of 12 and later fell in love with songwriting. In 2020, she recorded music in Nashville and released her first two singles in the spring. Since then, she has continued to develop her catalogue of songs, writing with country songwriters across Canada and performing at song writing circles and festivals including the Tyne Valley Oyster Festival, Rock the Boat Festival and Cavendish Beach Drive in Concert. Brooke's music features themes such as love, self-discovery, and heartbreak, drawing inspiration from Maren Morris and Taylor Swift. She is looking forward to releasing new music in 2022!