Description
Promo Code - "WEROCK" for 20% off and "PARTYROCK" for 30% off on the Group of four.
Join us for a FUN evening of painting, creativity, entertainment, laughs, great music and great drinks at Good Earth Cafe. This event is 16+
Follow one of our Art After Dark artists as they guide you through a masterpiece painting created by YOU!
LOCATION: Good Earth Cafe
DATE: Thursday, Oct 20th, 2016
TIME: 7:00pm-10:00pm
PAINTING: The Nightmare Before Christmas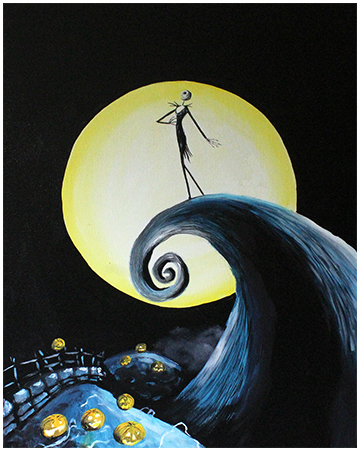 What's included?
-Painting supplies: paint, brushes, easel and canvas. The canvas is yours to take home at the end of the evening.
-A great time with friends!!
***Due to the nature of the limited Ticketed event tickets need a min of 48 hours notice for cancellation. It is the responsibility of the purchaser to sell the ticket or find another person to fill the space if you cannot attend after the 48 hour period.
*** If the promo codes are not entered, or entered incorrectly, Art After Dark charges $4.00 per ticket for a refund of the difference.
---
PROMO CODES
"WEROCK" for 20% off ticket price. - Admission for 1

FOUR'S A PARTY! - Buy 3 and get 1 FREE! And then some.
"PARTYROCK" for 30% off Ticket price - Admission for 4
---