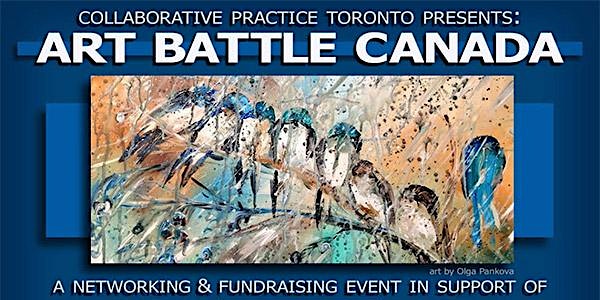 Art Battle
By Collaborative Practice Toronto
Date and time
Wed, May 11, 2016 6:00 PM - 10:00 PM EDT
Location
Daniels Spectrum / Toronto Artscape 585 Dundas Street East Toronto, Ontario M5A 2B7 Canada
Refund Policy
Contact the organizer to request a refund.
Description
---

---
Collaborative Practice Toronto Presents
ART BATTLE
A networking & fundraising event in support of SickKids
Art Battle is an inspiring, entertaining evening with friends & colleagues.
Experience:
The

professional

artistic process up close and in the moment
Casting your ballot for a future Canadian "Rembrandt"
Acquiring your own original work of Art
Fabulous food by caterer Daniel & Daniel
Winning fine wines and excellent event tickets at the silent auction
Making a difference for families, SickKids and emerging Canadian Artists
Tickets - $150

Donations are encouraged (tax receipts will be issued for donations, but not for event tickets). To make a donation, click "Get Tickets". There you'll find fields where you can donate $50 or another amount.
For more information, or if you require invitations to distribute, contact: lisa@barbaragordon.ca
FEATURED ARTISTS

Kevin Columbus
Kevin Columbus combines elements of pre-modern masterpieces, personal memories and subconscious impulses. Through his refined understanding of perceptive drawing and painting, creating nostalgic and impactful works that resonate with the viewer. Kevin represented Toronto in the 2013 Art Battle National Championship at the Art Gallery of Ontario, and has exhibited throughout Canada and Italy.

Leanna TenEycke
Oakville based artist Leanna TenEycke's work draws from the realms of the surreal and fantastic to produce ethereal characters and the worlds they inhabit. Leanna is the current Art Battle Canada Champion, as well as a 2015 International Live Painting Champion.

Natasha Dichpan
An animation designer by day and traditional painter by night, within her painting practice, Natasha's work is exaggerated and loud, taking on influences of North American pop culture and subdued by her classical upbringing in Russia. Natasha has won multiple Art Battles and is a Toronto Champion.

Nick Sweetman
Questioning the divisions enacted by concepts of urban space, nature, and culture, Nick re-imagines the constructed environments of reality. A joyful live painter, Nick's inventive techniques ensure that each piece is a performance in itself. Nick was a 2015 National Finalist and is the current reigning Toronto Art Battle Champion.

Olga Pankova
Olga Pankova's colour-rich works radiate with vitality. Known for her joyful depictions of an array of subject matter, Olga's current focus is on portrait painting, and representations of the natural world. Eclectic, yet harmonious, her works seem to exist in a domain of dreams. Olga represented Markham in the 2014 Art Battle National Championship, and is an audience favorite.

Sanjay B. Patel
From the most serene landscape to the and busiest city street, Sanjay Patel draws inspiration from any environment that he finds himself within. A passionate live painter, Sanjay channels the energy of his audience into each brushstroke and has already earned the title of All-Star artist in his first season of Art Battle.
SPONSORS
Silver Sponsors
Bronze Sponsors
Friends Of CPT Sponsors
In Kind Sponsors