Description
Art Before Dishes with Tiffany Pratt
Talk and book signing with Tiffany Pratt
With her trademark style and energetic presence, Tiffany Pratt has been invigorating dull spaces all across North America. The interior designer, maker, and author talks about her journey from opening an art studio in 2008 to becoming one of Toronto's most recognizable design figures. Join us as Tiffany shares her art stories and some tips to create by. Hint: always art before dishes!
The talk will be followed by a Meet-and-Greet and book signing of This Can Be Beautiful, taking place in the Partial Lounge in Zone A at Toronto Outdoor Art Fair July 7th at 3pm.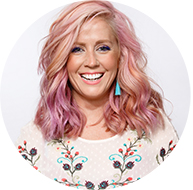 About Tiffany Pratt
Tiffany Pratt's vibrant and multifaceted design philosophy transforms people, objects and spaces. Her trademark hair, big energy and hands-on approach make Tiffany Pratt unforgettable. She has a unique gift to see the exquisite in the unexpected, this is reflected in her book This Can Be Beautiful, which is a visual and creative feast for anyone who wants to imagine and build a more beautiful life. Her signature style mixes old with new and merges elegant with livable. No matter what she does Tiffany lives and breathes her truth that anything can be magical.