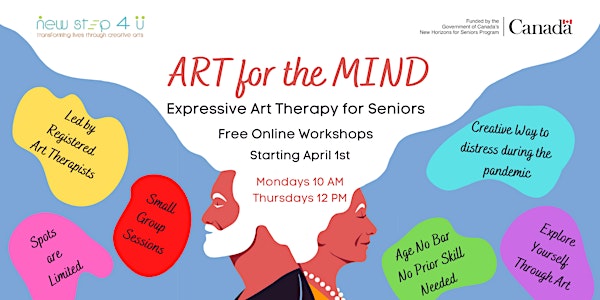 Art for the Mind - Art Therapy for Seniors (Session with Renata Chubb)
"Art for the Mind" - is a group Art therapy program for seniors that utilizes art-making to combat mental and emotional life challenges.
About this event
Art for the Mind for Seniors is a group art therapy program specifically designed with integrative mental wellbeing components to help isolated local seniors combat the new mental and emotional challenges they're facing as a result of COVID-19 in a positive and meaningful way. Art therapy is an active art making and creative process that supports cognitive and sensorimotor functions, fosters self-esteem and self-awareness, cultivates emotional resilience, promotes insight, enhances social skills and reduces and resolves conflicts and distress. Making art is inherently therapeutic and takes into consideration thoughts, feelings, behaviors' and spirituality within the counselling process.
Sign up for these free virtual sessions! Led by an Expressive Art Therapist in training - Renata Chubb. During 48 virtual sessions twice a week, participants will be encouraged to express, explore and understand their emotions through the medium of art.
Most of all supplies should be available from the dollar store or Walmart at an inexpensive cost.
Basic Art Kit:Pencil, Pencil crayons, Crayons, Markers, Water colour paints, Glue, Scissors, Old magazines or newspapers, Paper/sketchbook
Session Lead: Renata ChubbAs an Expressive Arts Facilitator and Expressive Arts Therapist in Training, I believe that art, sound, movement, words, and play offer great potential for healing and reconnection with self. I am currently a student of Expressive Arts Therapy at the CREATE Institute in Toronto, and have also completed a certificate in Art and Trauma. I have turned to art through so many difficult life experiences – often without even realizing it. My role is to gently guide, work with, and empower individuals in their release of old programs and traumas. Often we do not need words. Without a doubt a space can be made by working with colour, or sounds, tiny movements, our breath. There are many ways to heal our emotional wounds. As an Artist: I am a passionate creator who is learning to share what she creates. I am full of ideas and always working towards releasing judgements of my own creations. I continuously circle back to the beauty and authenticity of intuitive and abstract expressionist art – not focusing on what I see, but on how I feel – how feelings and energy can be interpreted in shape, texture, colour and line.
For more information email: contact@newstep4u.com or phone: 416-4574817
Please be advised that due to important therapy component of this program access to the session will be closed 5 min after scheduled start time.
Disclaimers:By joining the following zoom meeting you agree to the below terms and conditions: I understand that by participating in the expressive arts therapy group organized and funded by New Step For You with Renata Chubb facilitating, there are no guarantees of outcomes.I also understand that given the brief time per period of the group sessions there are limitations regarding the depth and breadth of the psychological processing that may be possible. I understand that the mandate for the group is to address themes of coping with changes and living in challenging times.
I also understand that what is disclosed in the group by all members will remain confidential with the following exceptions: disclosure of threat of harm or death to self, disclosure of threat of harm or death to another person, or disclosure of threat of harm or death coming from another person. In these cases, the authorities will be contacted in order to keep all parties safe.I also understand that I will not hold Renata Chubb or New Step For You responsible for any upset or increase in psychological distress of any kind as a result of participating in this group.I understand that Renata Chubb (expressive arts therapist in training) will be conducting the group via virtual therapy (Zoom platform) in a secure area of her home. I understand that the group sessions will not be recorded. I understand that it is my responsibility to ensure my confidentiality when engaging in therapy via virtual means (Zoom platform). I will choose a secure space while engaging virtually in the group and I ensure that no recording devices have been turned on either by myself or other persons in my home. My registration in the group indicates that I understand the terms of this platform as an extension of usual in-person group sessions.I understand that this consent will remain in effect until such a time as I withdraw it via written consent or discontinue services with this therapist or New Step For You, by informing them of my intent to do so.I have read the above information and agree to the terms of joining this group and attending the session.