Art Gallery of Windsor - Art to Heart Workshop - Workshop #3 (age 12 plus)
The Art Gallery of Windsor & AO Windsor are coming together to provide Art to Heart Workshop!
About this event
The Art Gallery of Windsor and Autism Ontario Windsor-Essex Chapter are excited to present "Art to Heart" - a monthly art workshop for children ages 12+ living with Autism Spectrum Disorder. On the third Tuesday of each month, Alyssa Pisciotto and April Morris from the Art Gallery of Windsor will alternate teaching a workshop online with a different theme each month.
Alyssa Pisciotto Bio:
Alyssa Pisciotto is a queer artist from LaSalle, Ontario, and now resides in Toronto. She graduated from OCAD University in 2016 with a Bachelor of Fine Arts, majoring in Drawing and Painting and minoring in Printmaking. Painting and printmaking are her primary practice. Her current work revolves around themes of colour, line and shape, and how they interact with one another.
April Morris Bio:
April is a visual artist and an arts educator who lives and works in Windsor, Ontario. She holds a Bachelor of Fine Arts (Honours), a Bachelor of Education, a Certificate in Arts Management, and a Masters of Fine Arts from the University of Windsor. Her paintings study urban spaces that she photographs on her exploratory walks in the city. April sees the city as a place of unnoticed messages and questions how it impacts her and her sense of place.
As an arts educator, April has worked within her immediate community to foster ongoing professional development and to instil creative learning. April has taught various art lessons at local public schools, the Art Gallery of Windsor, SB Contemporary Art, and the University of Windsor. In each of these educational facilities April has designed and delivered a variety of lessons teaching individuals of all ages about the value of the creative arts. April is an advocate for the arts and is dedicated to encouraging art and creativity in her hometown Windsor.
Once registration is closed, we will be packaging and mailing the supplies out to ensure that you receive them in time for the workshop. Please ensure you provide us with your full correct mailing address at the time of registration to ensure accuracy for delivery!
If you have any questions or concerns, please e-mail livia.windsor@autismontario.com or call the office at 519-250-1893.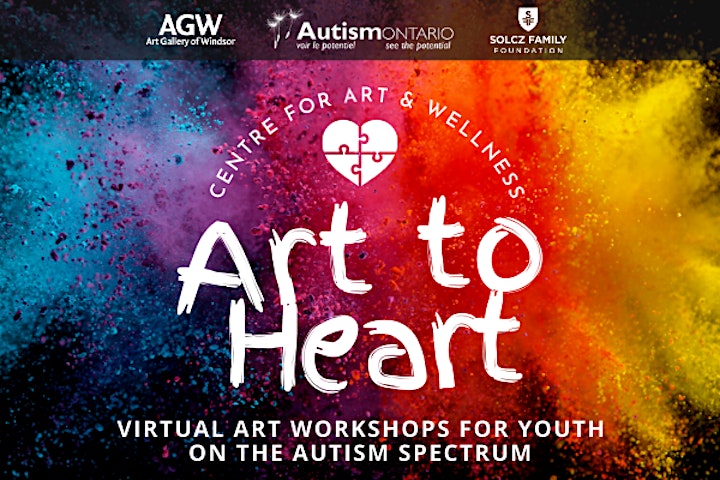 Organizer of Art Gallery of Windsor - Art to Heart Workshop - Workshop #3 (age 12 plus)
Our Vision: Acceptance and opportunities for all individuals with Autism Spectrum Disorders.
Our Mission: To ensure that each individual with ASD is provided the means to achieve quality of life as a respected member of society.
Our 6 Key Areas of Focus
Advocacy and Support

Research

Best Practices

Government Relations

Public Awareness

Governance

Autism Ontario (formerly Autism Society Ontario) is the leading source of information and referral on autism and one of the largest collective voices representing the autism community. Members are connected through a volunteer network of Chapters throughout the Province of Ontario.
We are guided by a Board of Directors, composed primarily of parents of individuals with autism, plus a host of volunteers and respected professionals who provide expertise and guidance to the organization on a volunteer basis.

Autism Ontariois dedicated to increasing public awareness about autism and the day-to-day issues faced by individuals with autism, their families, and the professionals with whom they interact. The association and its chapters share common goals of providing information and education, supporting research, and advocating for programs and services for the autism community.