Description
For the second year, The Revue Cinema participates in Art House Theater Day, which celebrates indie theaters as advocates for culture and community. At a time when media has become more digital than tangible, more solitary than social, art house theaters are where film lovers gather to encounter new ideas and creative filmmaking.
Join us at the Revue on September 18 for a free screening of Eric Rohmer's The Green Ray (1986), hosted by writer and editor Mallory Andrews. This event is sponsored by Hollywood Suite.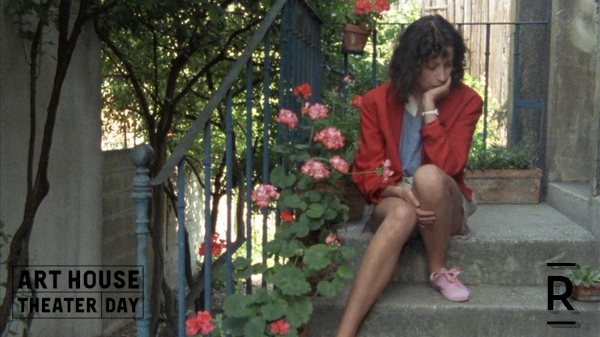 THE GREEN RAY
FRANCE 1986 99min. PG
Directed by Éric Rohmer
Starring Marie Rivière, María Luisa García, Vincent Gauthier
Winner of the Golden Lion at the 1986 Venice Film Festival, Eric Rohmer's The Green Ray perfectly captures those melancholy end-of-summer vibes. Newly-single Parisian Delphine (Marie Rivière, who shares a writing credit with Rohmer for the film's mostly-improvised dialogue) tries to enjoy her precious few weeks of summer vacation while coping with feelings of loneliness and isolation. Equal parts vulnerable and hopeful, The Green Ray is a masterpiece of summertime sadness. - MALLORY ANDREWS
The screening will be hosted and introduced by Mallory Andrews.

Please note that since this Revue Film Society event is free, it is our policy to overbook to ensure capacity. We will begin releasing unclaimed seats to the rush line 5 minutes before the start of the event. In case of a full house, your reservation may not guarantee admission. Please note that only 2 tickets can be reserved per order. We recommend you arrive early! :)
Organizer of Art House Theater Day: THE GREEN RAY (1986) - FREE SCREENING
The recently renovated Revue Cinema is Toronto's premier not-for-profit community cinema. We offer great second-run Hollywood fare, insightful programming like our Silent Revue series — where classics from the silent era are accompanied on live piano — Food in Film, Designing the Movies, annual galas, retrospectives & numerous other community offerings. The Revue opened in 1912, making it the oldest operating cinema in Toronto. Support us by becoming a member & enjoy great perks throughout the entire year!