Description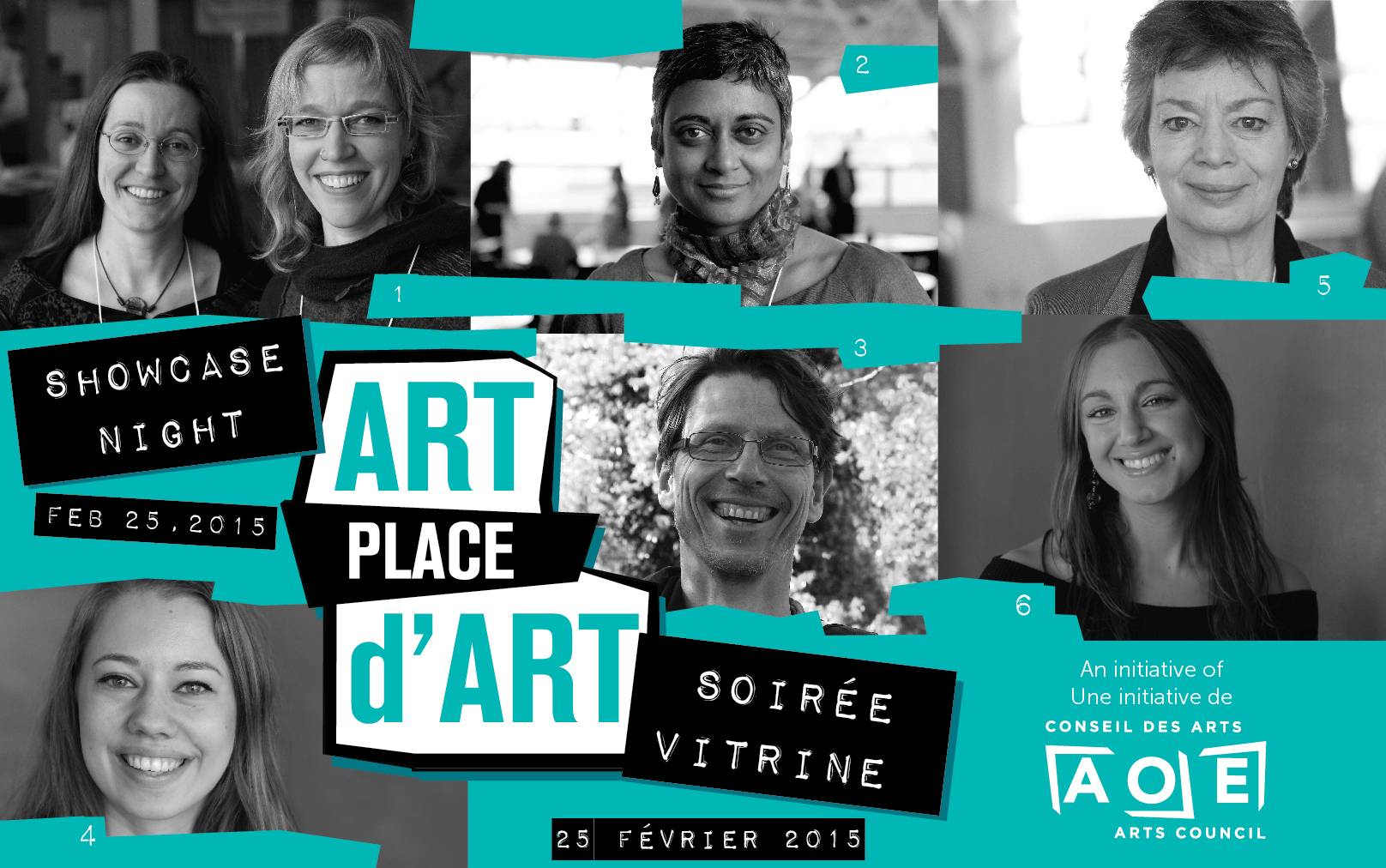 MEET THE ARTISTS
Feb. 25, 2015
6:30 p.m. to 9:30 p.m.
Élisabeth Bruyère Hospital
43 Bruyère St.
, 6th flr, Gilberte Paquette Garden
Art Place Showcase Night
Mingle with guests and all the Art Place artists to learn about their community-driven projects.

Word of welcome at 7 p.m.,followed by performances from Ottawa StoryTellers and Naomi Tessler. Play Trophy, STO Union's life-sized interactive boardgame, throughout the evening! Light refreshments will be served.


Art Place is a community outreach program of AOE Arts Council, funded in part by the Ontario Trillium Foundation. In its inaugural year, the new social practice professional artist-in-residence program is enabling jury selected artists to offer unique free-of-charge artistic services in collaboration with community sites across the city of Ottawa.

Art Place Projects

Marc Walter, Land art
Partner: Saint-Louis Residence (Bruyère Continuing Care)
STO Union, Interactive theatre
Partner: Hospice Care Ottawa & the Ottawa Mission
OttawaStoryTellers, Storytelling
Partner: Zonta Club of Ottawa
Naomi Tessler, Forum theatre
Partner: Immigrant Women Services Ottawa
---
RENCONTREZ LES ARTISTES
Le 25 fév. 2015
18h30 à 21h30
Hôpital Élisabeth-Bruyère,

43, rue Bruyère
, 6e étage, Jardin Gilberte Paquette
Soirée Vitrine Place d'art
Venez causer avec invités et artistes de
Place d'art
afin de découvrir leurs projets à caractère social.
Mot de bienvenue à 19h, suivi de représentations par Ottawa StoryTellers et Naomi Tessler.

De petites bouchées seront servies.
L'initiative Place d'art est un programme mis sur pied par le Conseil des Arts AOE

, et financé en partie par la

Fondation Trillium de l'Ontario.

Au cours de la première année, le nouveau programme d'artistes professionnels en résidence permet aux artistes, sélectionnés par un jury, d'offrir des services artistiques gratuits dans divers sites communautaires de la région d'Ottawa.
Les projets Place d'art

Marc Walter,
Land art
Partenaire : Résidence Saint-Louis (Soins continus Bruyère)
STO Union, Théâtre interactif

Partenaire : Hospice Care Ottawa et Ottawa Mission