Art & Science of Cardiac Physical Examination
Description
The Art & Science of Cardiac Physical Examination returns this fall! 
This 2 day course is designed to update physicians and trainees on the Art and Science of Cardiac Physical Examination - with an update on recent advances in therapy. It is a comprehensive course on bedside techniques. The program will feature discussions by experts in the field, group auscultation sessions, and special sessions on precordial pulsations and jugular pulse contour analysis. A one-hour session will be dedicated each day to provide a clinical update on recent therapeutic advances in cardiovascular medicine. 
Phono Recordings from actual patients with the use of multiple group listening devices and instant visual display of the actual phono trace will enhance the learning experience.
Physiologic Explanation will be updated and simultaneous echocardiograms, pulses and pressures will be used for correlations. Precordial pulsations and jugular pulsations will be taught with the aid of actual video recordings from patients. 
Audience Participation by means of workshop method and continual interchange of ideas among faculty will be offered to maximize the total leaning experience.
2 Day Course
Friday September 23 2016 - 08:00am to 04:30pm
Saturday September 24 2016 - 08:00am to 04:30pm 
This program has been approved for the following:
• The College of Family Physicians of Canada – 13.5 Mainpro+ credits
• Royal College of Physicians & Surgeons of Canada – 13.5 Section 1 credits

Proposed Agenda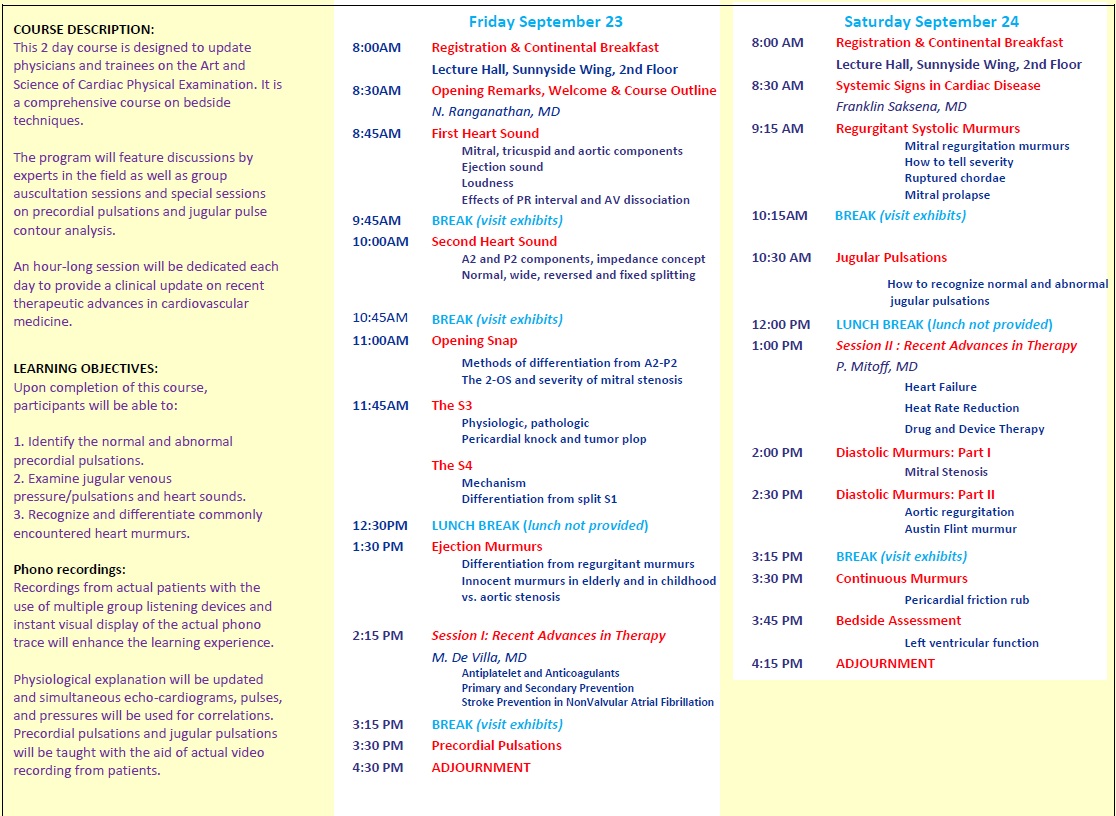 Campus Map