About this Event
"ART THAT BINDS"
HAITIAN-AMERICAN PAINTING AND CULTURE WORKSHOP
WHEN: Sundays from August 25 - October 13, 2019 from 3PM -5 PM
WHERE: Clemmons Family Farm, Authentica Gallery
FEATURED ARTIST: Jude Desmont
MAXIMUM PARTICIPANTS: 20 PEOPLE
PRICE: $35 for the class plus an $20 for the materials- or bring your own materials at no additional charge.
Come chill with Julio and enjoy the gorgeous Farm setting. If the weather is nice, we'll hold the paint & culture workshop in plein air overlooking the views of the organic crop fields and the Adirondack Mountains! Join us in fostering warm and loving relationships across differences of race, culture and national origin through "Art That Binds." Paint, pallets, paint brushes, canvases, aprons and everything else you'll need will be provided for an additional $20 on top of the cost of the class-- or bring your own materials! Participants will be introduced to Julio's creative philosophy and work style that juxtaposes colors and dynamics.
Bring an empty wine bottle or your own canvas and acrylic paints- or we'll supply them for you. You'll return home with your Haitian culture-inspired masterpiece!
This quietly joyful community co-creation workshop invites everyone of different skills and abilities to explore their creative energy through painting guided by Burlington resident Julio Desmont. Julio will create a "sense of place" for participants to enjoy a multicultural experience that pivots around learning and celebrating Haitian-American painting and culture while they also share their own stories and insights into the connection between art and life experiences. Experienced painters and absolute novices are welcome to engage in this hands-on multicultural community-building experience. You will have the opportunity to co-create and connect with others across differences of race, culture and national origin and to fit into an inspiring moment where every voice matters and every participant is celebrated for their unique contributions to "the whole".
About the Artist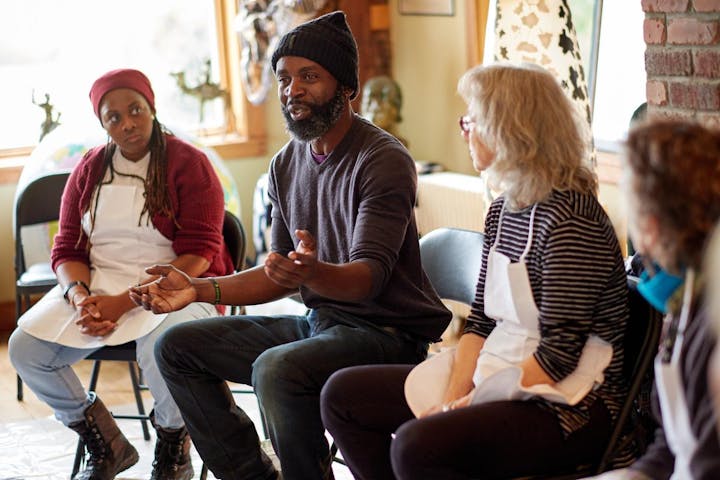 A newcomer to Vermont, Burlington resident Julio Desmont brings a wealth of expertise in multicultural creative work. He has a Masters Degree in Fine Arts and has studied African art, European Art and Architecture, Art History, Modern Art, painting, sculpture and ceramics. Julio worked for several years in the Musee d'Art Haitien in Port au Prince, Haiti as an education intern, exhibition research assistant, and as a curatorial and collections intern. He has exhibited his creative works in Haiti, the Dominican Republic, Venezuela, Santa Domingo, Poland and California.
About the Clemmons Family Farm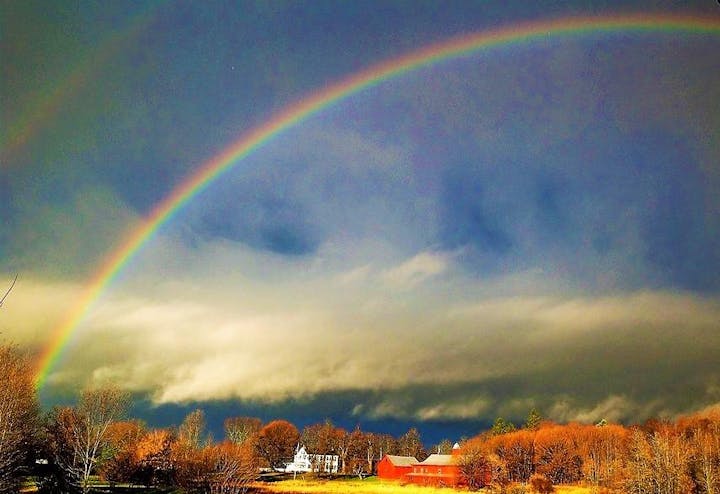 Located in Charlotte near beautiful Lake Champlain, the Clemmons Family Farm is ​one of the largest African-American-owned historic farms in Vermont today. The farm includes 6 historic buildings (circa late 1700s-1800s), a spacious 1990's residence, and 148 acres of prime farmland and forests, ponds and streams abundant with wildlife.
The Clemmons Family Farm is among the less than half of one percent (0.4%) of all farms in the United States are African-American-owned. Over the past century, African-American land ownership in the U.S. has decreased by 93%: from a combined total of 41 million acres in the 1920's to just 3.5 million acres today. There are nearly one billion acres of farmland in the United States.
According to the 2012 United States agriculture census, of the nearly 7000 farms in Vermont, only 19 are African-American-owned or operated. Of the 1.2 million acres of farmland in Vermont, only 740 acres are owned or principally operated by African Americans.
By attending our events or giving donations to the Clemmons Family Farm you help us to preserve one of the rare African-American owned farms in the state of Vermont and in New England as a cultural heritage asset for the community.
Look for the blue sign with hand-painted Tanzanian TingaTinga artwork of African animals and the words "The Shop."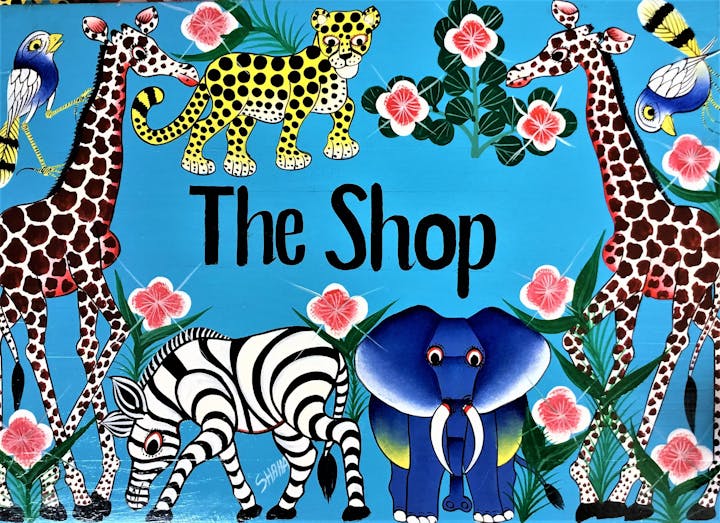 FAQ
Where do I park?
The Art That Binds community workshops will be held at the Clemmons Family Farm's old Authentica African Art Imports gallery, located at 2190 Greenbush Road (Adirondack Mountain side). Please park across the road (east side of Greenbush Road) on the lawns on either side of the driveway at 2213 Greenbush Road. You will see "Event Parking" signs indicating the areas where you can park and some of our friendly volunteers will be around to help direct you.
You will then cross Greenbush Road and walk over to the Authentica Art Gallery. Please look both ways before crossing!
Who do I contact about this event?
Please contact us if you have any questions about the event. Email clemmonsfamilyfarm@gmail.com or call (765) 560-5445 and leave a message.
Where can I learn more about the Clemmons Family Farm?
This event is made possible through a generous grant from ArtPlace America to the A Sense of Place project which is led by the Clemmons Family Farm in partnership with Burlington City Arts, Champlain College, and a growing number of other Vermont partner organizations.