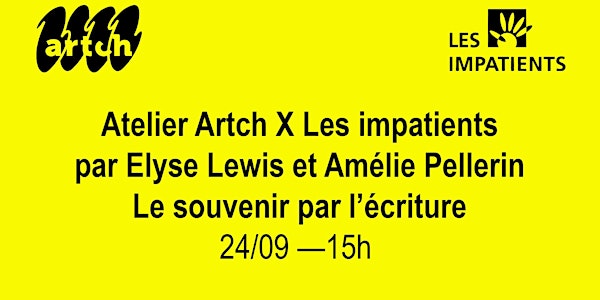 Artch 2022 - Atelier X Les impatients
When and where
Location
Square Dorchester 2903 Rue Peel Montréal, QC H3B 4J5 Canada
About this event
𝐀𝐫𝐭𝐜𝐡 𝐗 𝐋𝐞𝐬 𝐢𝐦𝐩𝐚𝐭𝐢𝐞𝐧𝐭𝐬
𝐀𝐭𝐞𝐥𝐢𝐞𝐫 𝐨𝐟𝐟𝐞𝐫𝐭 𝐩𝐚𝐫 𝐄𝐥𝐲𝐬𝐞 𝐋𝐞𝐰𝐢𝐬 𝐞𝐭 𝐀𝐦é𝐥𝐢𝐞 𝐏𝐞𝐥𝐥𝐞𝐫𝐢𝐧 - 𝐋𝐞 𝐬𝐨𝐮𝐯𝐞𝐧𝐢𝐫 𝐩𝐚𝐫 𝐥'é𝐜𝐫𝐢𝐭𝐮𝐫𝐞
𝟐𝟒 𝐬𝐞𝐩𝐭𝐞𝐦𝐛𝐫𝐞 - 𝟏𝟓𝐡
Cette année, artch s'associe à plusieurs partenaires culturels pour organiser des ateliers offert à tous nos visiteur.se.s
Artch est fier de s'associer aux 𝐈𝐦𝐩𝐚𝐭𝐢𝐞𝐧𝐭𝐬 sur un atelier autour de la santé mentale et l'art. Les deux organismes ont donné carte blanche à une artiste des 𝐈𝐦𝐩𝐚𝐭𝐢𝐞𝐧𝐭𝐬 , 𝔸𝕞é𝕝𝕚𝕖 ℙ𝕖𝕝𝕝𝕖𝕣𝕚𝕟, et à une ancienne artiste de artch, 𝔼𝕝𝕪𝕤𝕖 𝕃𝕖𝕨𝕚𝕤. Cet atelier a été pensé comme un moment, un lieu mental, intime, lié au souvenir ou à la mémoire, à travers l'écriture.
Les participant.e.s seront invité.e.s à s'immerger dans un souvenir, dans des émotions selon le niveau de confort de chacun.e, pour un exercice d'écriture libre, pouvant d'abord rappeler l'écriture d'un journal intime, joué et ouvert à toutes ses formes.
Le geste-écriture peut être investi dans une gestuelle crue, libérée, physique jusqu'à en être illisible ou définie comme un langage inventé par son corps. Les participant.e.s sont donc invité.e.s à transformer le texte, lui trouver une seconde signification, à travers sa matérialisation comme oeuvre d'abord unique et personnelle, puis par la suite comme oeuvre collective rassemblant le travail de tout.e.s
Atelier gratuit, ouvert à tous
******
𝐀𝐫𝐭𝐜𝐡 𝐗 𝐋𝐞𝐬 𝐢𝐦𝐩𝐚𝐭𝐢𝐞𝐧𝐭𝐬
𝐖𝐨𝐫𝐤𝐬𝐡𝐨𝐩 𝐛𝐲 𝐄𝐥𝐲𝐬𝐞 𝐋𝐞𝐰𝐢𝐬 𝐚𝐧𝐝 𝐀𝐦é𝐥𝐢𝐞 𝐏𝐞𝐥𝐥𝐞𝐫𝐢𝐧 -𝐑𝐞𝐦𝐞𝐦𝐛𝐞𝐫𝐢𝐧𝐠 𝐭𝐡𝐫𝐨𝐮𝐠𝐡 𝐰𝐫𝐢𝐭𝐭𝐢𝐧𝐠
𝐒𝐞𝐩𝐭𝐞𝐦𝐛𝐞𝐫 𝟐𝟒𝐭𝐡- 𝟑𝐏𝐌
This year, artch is partnering with several cultural partners to organize workshops offered to all our visitors.
Artch is proud to partner with the 𝐈𝐦𝐩𝐚𝐭𝐢𝐞𝐧𝐭𝐬 on a workshop around mental health and art. The two organizations brought together an artist from Les 𝐈𝐦𝐩𝐚𝐭𝐢𝐞𝐧𝐭𝐬, 𝔸𝕞é𝕝𝕚𝕖 ℙ𝕖𝕝𝕝𝕖𝕣𝕚𝕟, and a former artch artist, 𝔼𝕝𝕪𝕤𝕖 𝕃𝕖𝕨𝕚𝕤. This workshop was conceived as a moment, a mental and intimate space, linked to memory, through writing.
Participants will be invited to immerse themselves into their memories, into emotions according to each's comfort level, for a free writing exercise, which can first recall the writing of a diary, played and open to all its forms.
The gesture-writing can be invested in raw, liberated, physical gestures until it is illegible or defined as a language invented by one's own body. The participants are therefore invited to transform the text, to find a second meaning, through its materialization as a unique and personal work, then later as a collective work bringing together the work of all the participants.
Free workshop, open to all