ARTicipate Seat Plaque Sale | Vente de plaque de siège ARTicipez

Wednesday, 22 April 2015 at 6:00 PM

-

Thursday, 31 December 2015 at 11:30 PM (EDT)
Event Details
Be generous AND creative!
Purchase an an ARTicipate seat plaque to support local artists.
To date, the Fund has awarded grants to 5 of the Centre's resident arts partner, 19 artists and 17 arts organizations.

Starting at $500, you can co-create with future artist recipients of the ARTicipate Endowment Fund by purchasing an engraved seat plaque with your name that of a loved one, a business or organization.
The Fund provides grants that enable programs, performances and exhibitions at the Shenkman Arts Centre. Your contribution will serve in perpetuity for generations of artists and audiences.

Flexible installment payments are available.
www.articipate.ca
613.580.2767
---
Faites-en une réalité!
Achetez une plaque de siège ARTicipez pour appuyer les artistes locaux.
À présent, 5 partenaires artistiques résidents du Centre, 19 artistes et 17 organismes artistiques locaux en ont béneficié.

Commençant au coût de 500 $, vous pourrez co-créer avec les prochains artistes récipiendaires du Fonds de dotation ARTicipez en vous procurant une plaque de siège sur laquelle votre nom, celui d'un être cher d'une entreprise, d'un organisme sera inscrit.
Le Fonds de dotation offre des subventions qui visent à mettre sur pied des programmes, performances et expositions au Centre des Arts Shenkman. Grâce à votre généreux appui,  les futures générations d'artistes et membres du public bénéficieront de votre contribution.

Des acomptes provisionnels flexibles sont disponibles.
www.articipez.ca
613.580.2767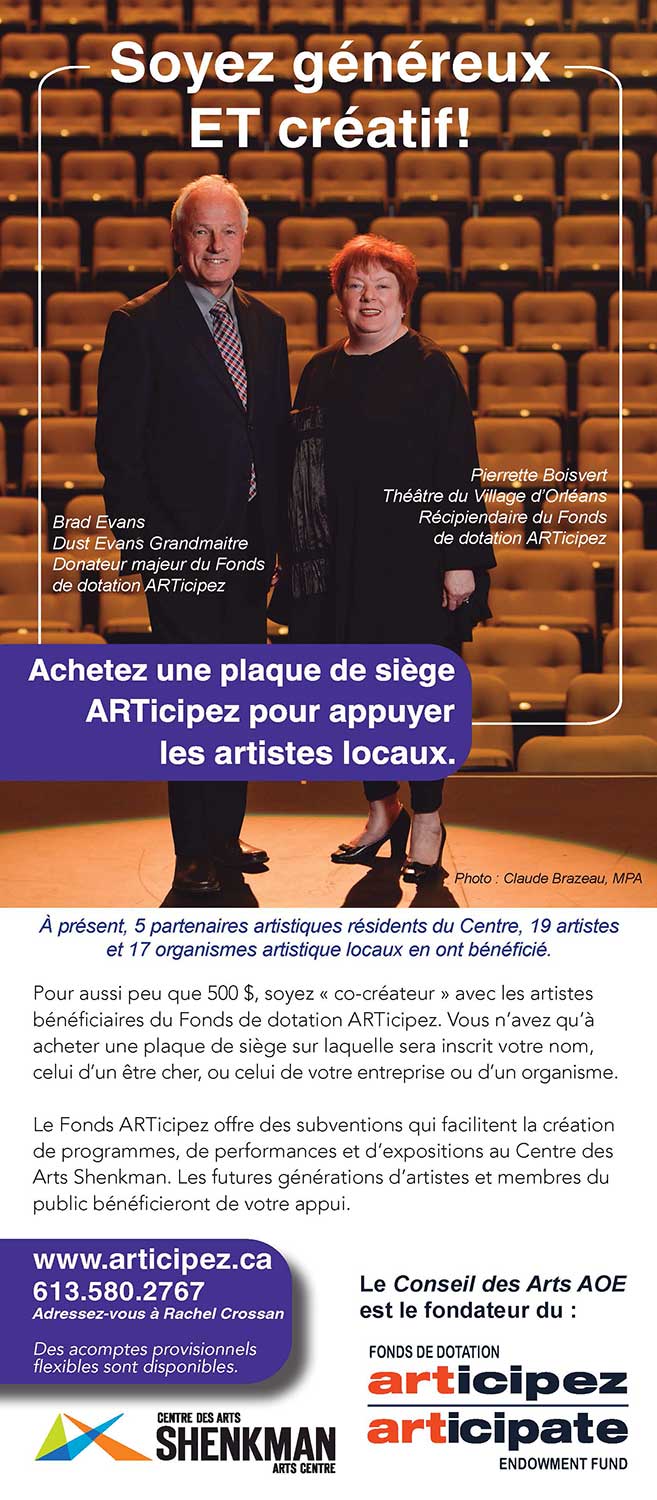 When & Where

Shenkman Arts Centre
245 Centrum Boulevard
Ottawa, ON K1E 0A1
Canada

Wednesday, 22 April 2015 at 6:00 PM

-

Thursday, 31 December 2015 at 11:30 PM (EDT)
Add to my calendar
Organizer
About Arts Network Ottawa (formerly AOE Arts Council)
Arts Network Ottawa knows how the Arts build strong communities. For more than 30 years, we have collaborated with communities to promote the creative, social and economic benefits of local Arts and will continue to do so. We provide an informed voice for a bilingual network, across the Ottawa region, of over 400 artists, cultural workers and arts organizations.   As an arts service organization, we are an essential connection to opportunities, resources, programs and partnerships that advance careers and the sustainability of Ottawa's arts community.
Arts Network Ottawa  recognizes that the City of Ottawa was built on unceded Algonquin Anishinaabe Territory. The Arts Network also recognizes  the diversity of Ottawa's artists and residents and both official languages.
Non-profit registered charitable organization: 12177 7023 RR0001.


À propos du Réseau des arts d'Ottawa  (anciennement le Conseil des Arts AOE)
Le Réseau des arts d'Ottawa reconnaît l'importance des arts pour renforcer les collectivités. Depuis une trentaine d'années, nous nous assurons de collaborer avec les collectivités en vue de faire connaître les avantages créatifs et socioéconomiques des arts sur la scène locale. Nous sommes le porte-parole informé d'un réseau bilingue de plus de 400 artistes, travailleurs culturels et organismes artistiques. En tant qu'organisme de service aux arts, nous sommes un lien essentiel vers les possibilités, services, ressources, programmes et partenariats favorisant la progression des carrières et la durabilité de la collectivité artistique d'Ottawa.
Le Réseau des arts d'Ottawa reconnaît le passé identitaire des Algonquiens anichinabés sur les territoires non cédés où se trouve aujourd'hui la Ville d'Ottawa. Nous témoignons aussi de la diversité de ses artistes et résidents et du respect des deux langues officielles.
Organisme de bienfaisance enregistré sans but lucratif : 12177 7023 RR0001.