ARTinis 2016

Thursday, 27 October 2016 from 6:30 PM to 10:00 PM
Event Details
A HAUNTINGLY GOOD PARTY

Presented by: Anchor Climate Care, Boom 99.7FM, Mixed Media Group and Ottawa Business Journal

Join us on Thursday, October 27 for ARTinis 2016 at the Shenkman Arts Centre, where the spirits of Ottawa's Arts Community will come out to haunt with community leaders, business members and supporters. ARTinis 2016, our annual artistic benefit event will pull you into the depths of the Underworld with an evening full of surprises, live music, and artistic demonstration. Linger in the land of wandering souls enjoying decadent food and sinful drinks prepared temptingly by some of Ottawa's finest caterers. Guests can come in cocktail attire or in costume, if they dare.

Evening Highlights
-    Listen and dance to original live music in the Richcraft Theatre
-    A unique guest experience with artist demonstrations and live art performances
-    Costume contest with prizes in various categories
-    Signature ARTinis cocktail, wine by Strewn and Beau's beer
-    Exceptional, catered gastronomical experience at numerous food stations
-    Networking opportunities with local business, arts, and community leaders
-    Themed décor and lounge areas
 
About the Cause – Celebrate and Support Local Arts
AOE Arts Council's popular annual event returns for its ninth year. The event attracts over 300 artists, art lovers, business and community leaders who come together to celebrate AOE Arts Council activities on behalf of Ottawa's artists and arts organizations.

AOE Arts Council has been working with Ottawa's Arts Community for close to 30 years to build a vibrant and sustainable sector. As a dynamic, bilingual arts service organization, we connect, champion, and collaborate to bring resources together that build a thriving Ottawa Arts Community. We do this by:
-    Creating opportunities for local artists and arts groups
-    Offering 40 programs, workshops, and events each year
-    Providing promotional reach, professional development, and resources for artists
-    Providing an informed voice for the Arts
-    Representing over 400 members in all disciplines and at all levels of practice
-    Offering opportunities for thousands of residents to engage with the arts each year

Together, we can meet AOE Arts Council's $40,000 goal to fund opportunities for local artists and to support Ottawa's vibrant arts community.

For tickets and information, to donate to the silent auction or to become a sponsor, please contact:
Marissa McHugh at Marissa@artsoe.ca or at 613.580.2767  
   
For more information about AOE Arts Council and to see photos from past ARTinis.
---
UNE BELLE FÊTE ENVOÛTANTE

Presenté par : Anchor Climate Care, Boom 99.7FM, Mixed Media Group et Ottawa Business Journal
Soyez des nôtres, le jeudi 27 octobre, pour ARTinis 2016 au Centre des Arts Shenkman, alors que les fantômes de la communauté des arts d'Ottawa seront libérés pour se joindre aux leaders de la communauté ainsi qu'à des gens d'affaires et des bienfaiteurs. ARTinis 2016, notre événement-bénéfice annuel vous transportera jusqu'aux profondeurs de l'empire des ténèbres, grâce à une soirée riche en surprises, de la musique en direct et des démonstrations artistiques. Flânez au pays des âmes errantes, dégustez de savoureuses bouchées et de délicieux cocktails préparés par les meilleurs traiteurs à Ottawa. Les invités peuvent assister à l'événement en tenue de soirée ou ils peuvent oser se déguiser.

Fait saillants
-    Écoutez et dansez au rythme de la musique originale, jouée sur place, au Théâtre Richcraft
-    Venez vivre des expériences uniques, des démonstrations artistiques et des performances en direct
-    Un concours de déguisements avec des prix offerts dans différentes catégories
-    Des cocktails ARTinis préparés par Ottawa Cocktails, du vin Strewn et de la bière de Beau's  
-    Une expérience gastronomique exceptionnelle, comprenant de nombreuses stations de dégustation dirigées par les traiteurs Epicuria, Cuisine et Passion et OCCO Kitchen
-    Des occasions de réseautage avec des leaders sur la scène locale, des gens du milieu des affaires, du monde artistique, et du monde communautaire     
-    Décor thématique et espaces de détente
 
Au sujet de notre cause – Célébrer et soutenir les arts au niveau local
Cet événement annuel, fort populaire, présenté par le Conseil des Arts AOE est de retour pour une neuvième année. L'événement attire plus de 300 artistes, amateurs d'art et leaders du monde des affaires et de la communauté qui se rassemblent pour célébrer les activités du Conseil des Arts AOE au nom des artistes et des organisations artistiques d'Ottawa.

Le Conseil des Arts AOE travaille en collaboration avec la communauté des arts d'Ottawa depuis près de 30 ans afin de bâtir un secteur énergique et durable. En tant qu'organisation bilingue et dynamique, au service des arts, nous tissons des liens, soutenons les arts et collaborons afin de rassembler des ressources pour construire une communauté artistique florissante à Ottawa. Pour ce faire, nous :
-    Créons des occasions de travail pour des artistes et des groupes artistiques locaux
-    Offrons 40 programmes, ateliers, et événements, chaque année
-    Offrons une portée promotionnelle plus importante, des activités de développement professionnel et des ressources pour les artistes
-    Offrons une voix éclairée dans le domaine des arts
-    Représentons plus de 400 membres issus de toutes les disciplines et de tous les niveaux de pratique
-    Offrons l'occasion à des milliers de résidents, chaque année, de participer à la vie artistique

Ensemble, nous pouvons atteindre l'objectif de 40 000 $ fixé par le Conseil des Arts AOE, ce qui nous permettra de financer des occasions pour des artistes locaux ainsi que soutenir une communauté artistique dynamique à Ottawa.

Pour obtenir des billets et de l'information, pour effectuer un don lors de l'encan silencieux, ou pour devenir l'un de nos commanditaires, veuillez contacter :
Marissa McHugh au Marissa@artsoe.ca ou au 613-580-2767 

Pour plus de renseignements au sujet du Conseil des Arts AOE ou pour voir des photos ARTinis.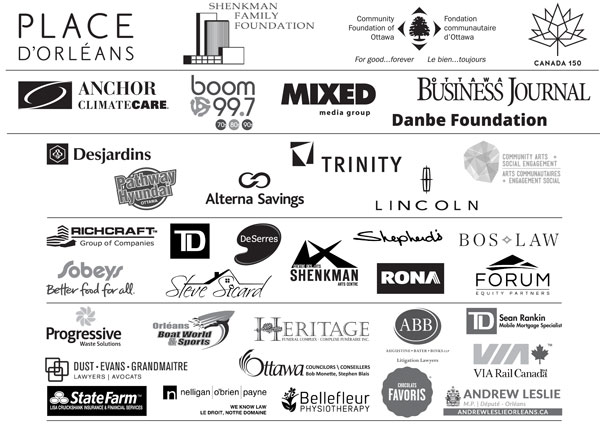 When & Where

Shenkman Arts Centre | Centre des Arts Shenkman
245 Centrum Blvd | 245, boul. Centrum
Free parking | Stationnement gratuit
Ottawa, ON K1E 0A1
Canada

Thursday, 27 October 2016 from 6:30 PM to 10:00 PM
Add to my calendar
Organizer
AOE Arts Council | Conseil des Arts AOE

AOE Arts Council has been working with Ottawa's arts community for 30 years to build a vibrant and sustainable sector. We are a bilingual, multidisciplinary service organization working actively in the community to champion the arts in the Ottawa region – and an essential connection to opportunities services and resources.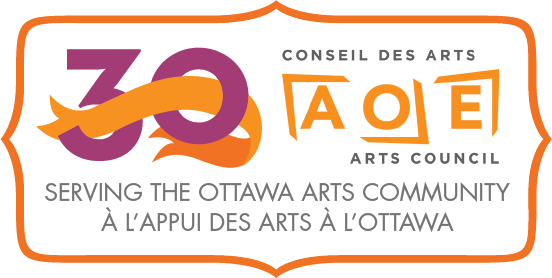 Le Conseil des arts AOE travaille avec la communauté artistique d'Ottawa depuis 30 ans pour construire un secteur dynamique et durable. En tant qu'organisme de services bilingue et multidisciplinaire, le Conseil travaille activement au sein de la communauté en faisant la promotion des arts dans la région d'Ottawa et en jouant un rôle essentiel dans l'accès aux possibilités, aux services et aux ressources.