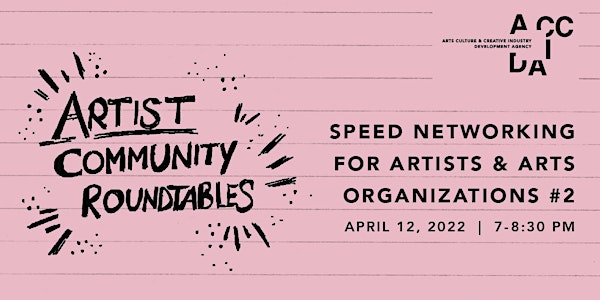 Artist Community Roundtable: Speed Networking #2
Speed networking is back by popular demand. Come meet fellow artists, creatives, arts organizations, and arts workers.
About this event
Speed networking is back by popular demand!
Whether you attended our first round of speed networking or you'll be joining us for the first time, this is a great opportunity to meet new people and potential collaborators.
Help develop and strengthen Brampton's creative community while making new connections.
We all know that finding the right resources or creative collaborators is an awkward combination of luck and persistence. This is made even more challenging by COVID-19.
Feeling a bit rusty? No worries. We will help facilitate the conversations.
We've all retreated a bit into our personal spaces, so let us help you out connecting with your artistic community.
In this fun, fast-paced event, we'll facilitate conversations through a variety of zoom break-out rooms. You will get the chance to talk to other Brampton-based artists, arts administrators, creatives, and arts organizations without any of the pressure you might associate with such experiences.
You will also have the opportunity to meet some of the ACCIDA Advisory Panel Members.
Come meet like-minded creatives and future collaborators in this 90-minute community-building session!