About this Event
Musical Funshop for Families: "A Little History"
Saturday, August 10, 2019: 3PM - 4:00 PM at the Authentica Art Gallery
"A Little History" fuses together original music, poetry, and Black history in an interactive educational funshop for children ages 10-13 years old and families. Together, we'll learn about legendary figures, past and present and how they can continue to inspire us today. We can't call this a workshop because it's so much fun!
Our artist-in-residence Ashleigh Gordon will introduce a set of original poems and viola pieces performed in short vignettes, each approximately 1 to 3 minutes in length, with music, images and light text describing nine African-Americans who have made history in different ways:
• Phillis Wheatley (poet)
• Garrett Morgan (inventor)
• Madame CJ Walker (millionaire)
• George Washington Carver (farmer)
• Margaret Bonds (composer)
• Ed Bland (composer)
• Angela Davis (activist)
• Bayard Rustin (civil rights leader)
• Barack Obama (president)
Presentation: "Meet the Composers"
Sunday, August 11, 2019: 4 PM - 5: 30 PM at the Historic Barn House
Don't miss this beautiful, musical and highly enjoyable approach to expand your knowledge and appreciation of the diversity of the composers of classical music. Our artist-in-residence Ashleigh Gordon will lead the audience on a musical journey through time and geography. Focused on the often overlooked and underrepresented voices from the African diaspora, this presentation will survey some of the trailblazers – dating from three centuries ago to the present and hailing from three continents – that have and continue to shape the classical music world. This program is designed for adults (families welcome!). The presentation is a sprinkled with gorgeous live viola performances of musical excerpts. It includes a talk, and a selection of pre-recorded performances by Castle of Our Skins, a concert and educational series dedicated to celebrating Black artistry through music, of which Boston-based Ashleigh Gordon is Creative and Founding Director.
A brief discussion and socializing (including some yummy African diaspora refreshments!) will follow the presentation. Adults and families with children 12 and older will love this event.
About the Artist: Ashleigh Gordon
Violist Ashleigh Gordon has performed throughout North America, Europe, and Hong Kong, ranging from chamber and orchestral music settings to off-Broadway and new music productions. Passionate about contemporary music, Ashleigh performs regularly with Boston's Callithumpian Consort, NYC's ECCE Ensemble, and the Grammy award winning Boston Modern Orchestra Project.
As Artistic and Executive Director of Boston-based Castle of our Skins, Ashleigh has helped create thought-provoking concert experiences that blend music and spoken word with history and culture at the Museum of African American History and Roxbury Community College among other venues, and co-designed/led educational workshops for over 1,000 youths in the Greater Boston area primary schools and community centers. In recognition for her advocacy of social and cultural awareness, she has given presentations at IDEAS UMass Boston and the North Carolina Governor's School of the West; has been featured in the June 2015 International Musician Magazine, the Boston Globe and Improper Bostonian; and awarded the St. Botolph Emerging Artist and Charles Walton Diversity Advocate award from the American Federation of Musicians.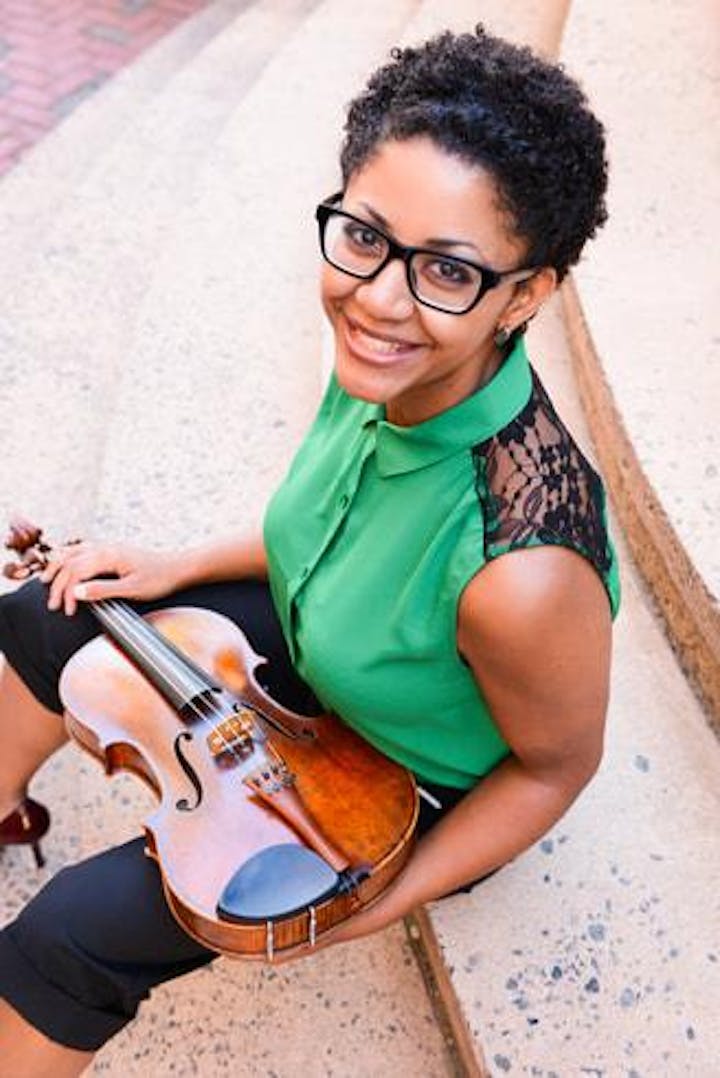 About the Clemmons Family Farm
Located in Charlotte near beautiful Lake Champlain, the Clemmons Family Farm is ​one of the largest African-American-owned historic farms in Vermont today. The farm includes 6 historic buildings (circa late 1700s-1800s), a spacious 1990's residence, and 148 acres of prime farmland and forests, ponds and streams abundant with wildlife. Your donations and other support for our programs helps us to keep this Farm available for African-American and African diaspora history, arts and culture programs for the community.
Admission is Free! Donations are Welcome!
We're grateful for donations when you attend wonderful events like these. Donations to the Clemmons Family Farm help us to preserve one of the rare African-American owned farms in the state of Vermont and in New England as a cultural heritage asset for the community. Of the 1.2 million acres of farmland in Vermont, only 740 acres are owned or principally operated by African Americans. less than half of one percent (0.4%) of all farms in the United States are African-American-owned.
Over the past century, African-American land ownership in the U.S. has decreased by 93%: from a combined total of 41 million acres to just 3.5 million acres today. Over the same timeframe, White land ownership decreased by just 3%.
Photo/Video Notice
Photographs and/or video will be taken during this event. By taking part in this event you grant the Clemmons Family Farm full rights to use the images resulting from the photography/video filming, and any reproductions or adaptations of the images for education, promotions, documentation, fundraising or other purposes to help achieve the Clemmons Family Farm's mission, which is to use arts and culture programming to foster a loving multicultural community. This might include (but is not limited to), the right to use them in their printed and online publicity, social media, press releases and funding applications.
If you do not wish to be photographed please don't hesitate to let us know! We will respect your wishes and you remain very welcome.
FAQ
Where do I park?
Authentica gallery, where the "A Little History" workshop for children will be held, is located on the west side of the road at 2190 Greenbush Road. Parking is on the lawns across the street.
The Barn House, where the "Meet the Composers" presentation will be held, is located on the west side of the road at 2122 Greenbush Road, Charlotte Vermont 05445. Please park in the barnyard at the "Big Barn" located across the street (east side) from the Barn House. You will see an "Event Parking" sign indicating the area where you can park. Additional parking is located south of the Big Barn-- look for more "Event Parking" signs at 2213 Greenbush Road.
What do I do if I cannot walk down and up the hill to the Barn House?
Please contact us before the event at clemmonsfamilyfarm2art@gmail.com or call (765) 560-5445 and leave a message so that we can arrange for a car to drive you down (and up) the hill. Also, the Barn House has an access ramp for those who may have difficulty using the stairs at the main entrance.
How can I contact the organizer with any questions?
Please contact us if you have any questions about the event. You can reach us at clemmonsfamilyfarm2art@gmail.com or call (765) 560-5445.
Where can I learn more about the Clemmons Family Farm?
Check out our website, subscribe for updates on our new arts and culture events, and fan us on Facebook!
The Clemmons Family Farm's arts and culture events mobilize the power of the people, arts and cultures of African descent to help build a loving community in Vermont. Our programs are made possible with major support from ArtPlace America. Of nearly 1000 applicants nationwide, our "A Sense of Place" project is one of just 23 recipients of ArtPlace America's 2017 National Creative Placemaking Fund grants. We work in partnership with Champlain College, our fiscal agents Burlington City Arts and the Peace and Justice Center, and a growing number of other Vermont-based organizations.