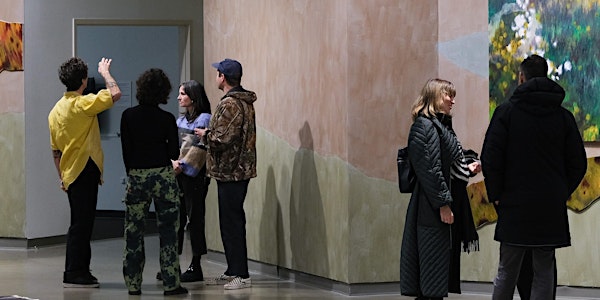 Artist Salon: Building Community Connections
Meet and share with other Lower Mainland visual artists at our first Artist Salon social of the year!
Date and time
Wed, Mar 29, 2023 7:00 PM - 9:00 PM PDT
Location
Richmond Art Gallery 7700 Minoru Gate #180 Richmond, BC V6Y 1R8 Canada
About this event
Join us in person at the gallery for a conversation and social with Community Arts Council of Richmond (CACR) and Richmond Arts Coalition (RAC).  Hear more about these arts organizations and what are some upcoming opportunities in the local arts scene. This is a great opportunity to meet and share with other Lower Mainland visual artists at our first Artist Salon social of the year!
Guest presenters Jimmy Ho, President of CACR, and Andrew Wade, President of RAC, will each share information about their upcoming events and ways for artists to get involved. Richmond Art Gallery staff will also be on hand to share more ideas on how artists can get involved and connected to various opportunities throughout Richmond and beyond.
After the guest presentations, there will be an informal discussion and social for participants to ask questions, share other arts opportunities, and discuss their own artistic plans for the year ahead.
Light refreshments will be available.
Free admission.  Registration required due to limited spaces.
About the Presenting Organizations:
The Community Arts Council of Richmond (CACR)'s purpose is to provide and broaden opportunities for citizens of all ages to participate in, learn and benefit from the arts in all its forms in a manner that is inclusive and representative. We sponsor public exhibitions, performances, classes, workshops and special programs and are constantly in search of new ways in which to assist in the development of art and culture in the city of Richmond. More info at richmondartscouncil.ca
The Richmond Arts Coalition is your Arts Voice for the arts and artists of Richmond.
V – a Volunteer-led organization, we
O – Offer opportunities for artists and the arts within Richmond,
I – Inform artists and assist with innovative ideas,
C – Connect artists, businesses, and audiences, and
E – Engage and advocate for the arts community
Founded in 2005, we are an organization that connects, informs, supports and advocates for the arts and artists of Richmond. More info at richmondartscoalition.com
Richmond Art Gallery (RAG) is a non-profit municipal art gallery established in 1980. The gallery produces an array of exhibitions and programs that connect, empower, and provoke conversation with our diverse Richmond, BC communities. RAG actively contributes to Richmond's cultural communities through our commitment to supporting artists via exhibitions, educational programs, publications, and a permanent collection. The Richmond Art Gallery's vision is to be one of the most important public galleries in Canada, and to increasingly enlarge our audiences and their understanding and enjoyment of contemporary art.
About the Artist Salon series:
The Artist Salon is an opportunity for emerging and established visual artists to learn from arts professionals and discuss opportunities in the arts community. Each month presents a different guest presenter for inspirational talks and professional development advice for visual artists. Past live sessions from 2020 onwards are recorded and may be viewed online at the Richmond Art Gallery website and YouTube channel.
The Artist Salon program is supported by the City of Richmond Arts and Culture grant.
About the organizer
The Richmond Art Gallery is mandated to exhibit, preserve and promote visual arts and to provide exhibition related programming.