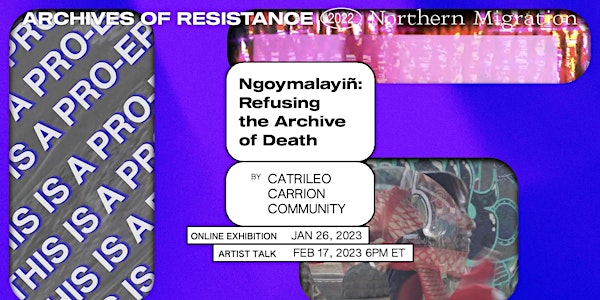 Artist Talk with Catrileo+Carrión Community: Archives of Resistance
Archives of Resistance and CFMDC present an artist talk by Catrileo+Carrión Community
By Canadian Filmmakers Distribution Centre
When and where
Date and time
Starts on Fri, Feb 17, 2023 3:00 PM PST
About this event
Archives of Resistance: NORTHERN MIGRATION
http://www.archivesofresistance.com/
Artist talk with Catrileo Carrion Community: February 17, 2023 at 6pm ET
Registration is required for this free online event.
Archives of Resistance: NORTHERN MIGRATION is an online exhibition that brings together a unique mix of collaborators composed of artists, designers, archivists, and educators. Together, they draw parallels between narratives of resistance across the Americas to celebrate those who are often forgotten or dismissed in colonized lands.
We are happy to present the third exhibition of this project titled Ngoymalayiñ by the Catrileo+Carrión Community (CCC). Ngoymalayiñ is a word in the Mapuche language of Mapuzugun which translates to "We do not forget." This phrase responds to the perseverance of Indigenous communities in seeking justice despite the continued violence and denial of their rights by the Chilean government. This exhibition includes a series of nine short videos combining archives in mainstream media, video performances enacted in historically relevant sites, and audio bytes by members of the community. By experimenting with diverse visual strategies on video, the community narrates the nuance of Indigenous experiences as Two-Spirited artists in search of self-determination
Join us for a performative artist talk by the collective on February 17, 2023, at 6pm.
Stay tuned for upcoming events in the Archive of Resistance series.
For questions or accessibility requests, please contact Lodoe Laura, lodoe@cfmdc.org.
Canadian Filmmakers Distribution Centre
1411 Dufferin Street, Unit D
Toronto, Ontario, Canada M6H 4C7
416-588-0725