Event Information
Refund Policy
Contact the organizer to request a refund.
Eventbrite's fee is nonrefundable.
Partners in Art (PIA) is proud to present its biennial fundraising gala ARTrageous: Collections from the Couch.
About this Event
This year has been a devastating year for so many, and we want to come together virtually to celebrate our resilient, creative, and diverse Canadian art community: artists, arts organizations, and institutions. By joining PIA's ARTrageous evening you will be doing just this!
The ARTrageous Committee, chaired by Heather Gotlieb, invites you to join us for an ARTrageous night in support of PIA's project development initiatives, which, since inception, have contributed over $5 million to artists and arts institutions to further excellence in contemporary Canadian arts.
Buy your tickets today! Ticket holders will receive an exclusive invitation to a curated tour of three world-class, contemporary private art collections including The Agnes Gund Collection (New York), The Komal Shah and Gaurav Garg Collection (Silicon Valley), and The Rennie Collection (Vancouver).
Our event will be MC'd by long-time PIA member Joanie Sternthal who will be joined by guest curator, Gaëtane Verna, Director of the Power Plant Gallery, as well as the Collectors who will offer personal insights on how they built their extraordinary collections.
Pour a drink, grab a snack, and join us from the comforts of your couch in celebrating the vibrancy of contemporary art in support of Partners in Art and its projects. It's going to be ARTrageous!
Tickets, Add-Ons + Early Bird Draw
General Ticket - $100: This ticket includes access to the ARTrageous virtual gala. When purchasing general tickets you can also purchase add-ons from the options below, offered by Bar Chef and Summerhill Market. Pick-up locations will be posted shortly.
Friends of PIA Ticket - $1000: This ticket includes access to the ARTrageous virtual gala, AND both a Bar Chef Cocktail Box and a Summer Market Snack Box. Delivery is included, within the GTA only. A PIA representative will reach out to confirm your cocktail selection (see choices on the next page).
Add-Ons
BAR CHEF Deluxe Cocktail Box: Choose from two delicious curated options. Cocktails for 2!
SNACK BOX Enjoy a curated selection of snacks to enjoy while viewing the collections. Snack box for 2!
Early bird ticket purchasers will be entered to win one of two "Golden Ticket" prizes. Valued at $1000, these prize packages include designer beach bags stuffed with summer essentials: beach towels, curated wine selections, skin products from Holt Renfrew, a quintessential "beach read" book, and much more! The first 100 ticket buyers are automatically entered in the contest. Please note one ticket = one entry. Winners will be announced during the gala!
Please note: Each ticket admits one household (or two people) to the virtual event. We ask that you kindly purchase additional tickets if you will be hosting a pandemic-friendly viewing party. Tickets are non-refundable.
Interested in Sponsorship? Please contact Jenna Faye Powell at jpowell@partnersinart.ca.
Event
Event date: May 19, 2021, 5:00 - 6:30 p.m.
An event link will be mailed to you the morning of the event.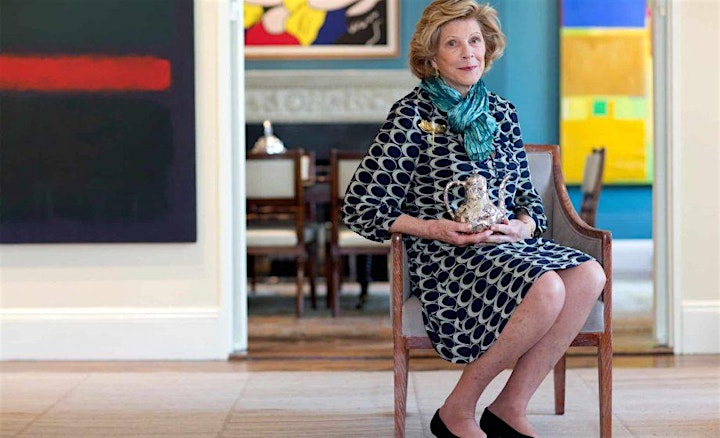 About the Collectors
Agnes Gund / The Agnes Gund Collection
Agnes Gund, an ARTnews Top 200 collector, has said she believes that art "is a right, not a privilege," and this belief has been the driving force behind her philanthropic endeavors in the art world for over four decades. Serving on the board of numerous museums and foundations (she is President Emerita of the Museum of Modern Art (MoMA) and current chair of its International Council, Gund also chairs the Mayor's Cultural Affairs Advisory Commission of the City of New York and serves on the boards of the Frick Collection, the Foundation for Contemporary Arts, and the Barnes Foundation. She served on the board of the J. Paul Getty Trust from 1994 to 2006. Gund typically gives between $6 million and $7 million a year through her AG Foundation, which has also donated hundreds of works to the Museum of Modern Art in New York and other museums. On top of these generous contributions, she has made it possible for 30,000 students, 90 percent of whom are under-privileged, to receive over 45,000 hours of art education a year through Studio in a School, a nonprofit organization which she founded in 1977. Her personal collection of over 2,000 works spans from 1940 to the present and includes pieces by Jasper Johns, Robert Rauschenberg, Richard Serra, Ellsworth Kelly, Roy Lichtenstein, Frank Stella, John Baldessari, and many more. (A visit to her New York City apartment is tantamount to a visit to a modern art museum.) Gund's interest in contemporary art is compounded by her interest in contemporary artists themselves, many of whom she knows personally. Ellsworth Kelly once said of Gund, "Everyone falls in love with her. You can tell her I'm in love with her."
In 2017, Gund sold a $150 million Lichtenstein painting from her collection to start the Art for Justice Fund, which will give grants to organizations working on criminal justice reform. The buyer of the Lichtenstein painting was Steven A. Cohen, who is also an ARTnews Top 200 collector.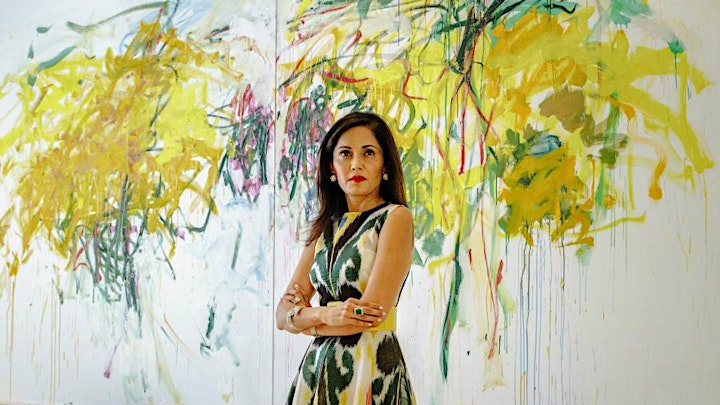 The Komal Shah and Gaurav Garg Collection
An ARTnews Top 200 Collector, Shah has been an important player in museum philanthropy, serving as a member of the accessions committee at the San Francisco Museum of Modern Art and the North American acquisitions committee at Tate Modern in London. She was appointed as a trustee of SFMOMA in May 2018 and a trustee of the Tate Americas Foundation in spring 2018. An avid collector since 2008, the collection is entirely focused on women artists or artists of color. Works by four women abstract painters—Amy Sillman, Charline Von Heyl, Jacqueline Humphries, and Laura Owens—form the "crux" of her collection, in which works by Joan Mitchell, Mark Bradford, Charles Gaines and Sam Gilliam also figure prominently. In 2019, Shah and her husband Gaurav Garg acquired an untitled painting by Mitchell from 1992 (the year of the artist's death). Shah is a "die-hard fan" of the market-making Abstract-Expressionist whose auction record was set in May 2018, when Blueberry (1969) sold for $16.6 million at Christie's New York.
As an art activist, she has also created a series of talks, called "Artists on the Future," at Stanford University that focuses on the intersection of art and sociopolitical issues that have included two-person conversations between artist Lorna Simpson and Ford Foundation president Darren Walker and curator Kimberly Drew and artist Lynda Benglis.
Bob Rennie / The Rennie Collection
Named a top 200 contemporary art collector in the world by ARTnews, Bob Rennie's collection began modestly in 1974 with the purchase of the Norman Rockwell print, "On Top of the World". Today the collection, comprising over 2,200 works by 370+ artists is shared with the community through free admission to exhibitions and programming at Rennie Museum, founded in 2009 in the oldest building in Vancouver's Chinatown. A former Chair of Tate Modern's North American Acquisitions Committee (2010-2016), Bob remains on the Executive Committee of the Tate International Council and the Tate Americas Foundation, and is a Trustee of the Art Institute of Chicago. In 2017, Bob made one of the largest donations of contemporary art received by the National Gallery of Canada. The $12 million donation comprises 197 artworks by Geoffrey Farmer, Rodney Graham, Brian Jungen, Damian Moppett, Doris Salcedo, and Ian Wallace.
Today, the Rennie Collection at his private museum, the Wing Sang, is one of the largest contemporary art collections in Canada and includes works by John Baldessari, Mike Kelley, Christopher Wooland others. Among the most expensive works in his collection is Kerry James Marshall's "Untitled (Red, Black, Green)", 2011-12, which is estimated to be worth $26 million. (The artist's current auction record is $21.2 million, set in May 2018 at Sotheby's New York when Marshall's 1997 painting Past Times was purchased by rapper P. Diddy). Rennie also waited ten years to acquire Garden Party, a 2003 painting by Marshall. In 2019, Rennie bought two Alice Neel works – Nazis Murder Jews (1936) and Childbirth (1939) – and pieces from La Toya Ruby Frazier's photographic series "The Notion of Family"(2001-14).
Date and Time
Location
Refund Policy
Contact the organizer to request a refund.
Eventbrite's fee is nonrefundable.